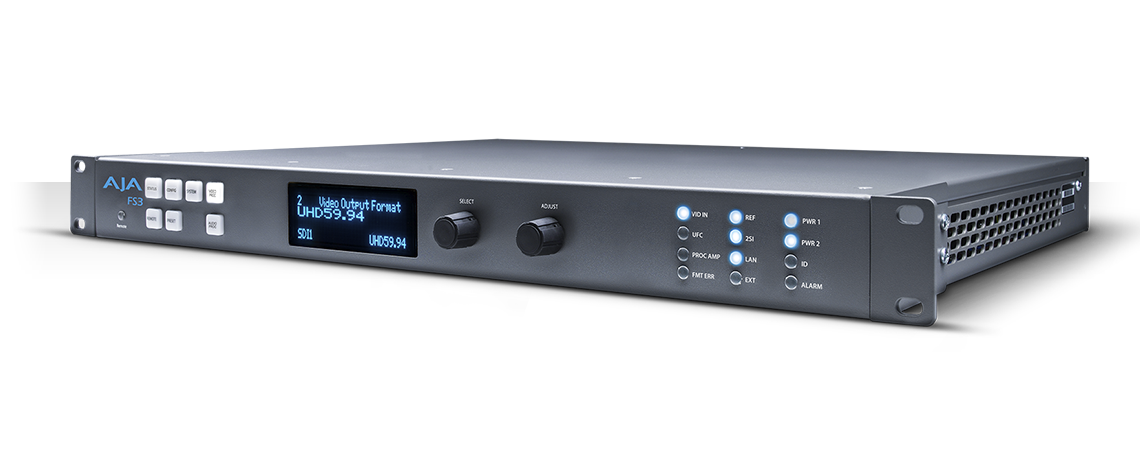 FS3 has been discontinued.
Please visit the FS family page for current alternatives.



FS3 is a full-featured HD/SD frame-synchronizer, with HD/SD up/down/cross-conversion and realtime 4K up-conversion. FS3 syncs to analog, HD tri-level sync, SD Blackburst or to the incoming SDI signal. FS3 also provides integer frame rate conversion (3:2, 1:2, 2:1). Included are all the industry proven features provided in AJA frame synchronizers, such as full Video Proc Amp and RGB color correction, region of interest scaling, extensive audio controls and routing, web UI control, GPI triggers and more.

The growth of 5.1 and 7.1 audio has further increased the number of audio channels that must be managed in a production. FS3 accepts embedded SDI audio on all four SDI inputs (two coax and two optional fiber) and has an internal 64 x 64 audio matrix that allows routing of all embedded audio channels. Besides audio level, phase, and delay controls, FS3 also provides for 5.1 and 7.1 mixdown to stereo.