DoP Michael Sanders Seamlessly Executes  Remote Productions with AJA U-TAP SDI
May 4, 2021
Change is a constant in production, with new technologies, formats, and standards continuously challenging professionals to adapt and evolve. When the global pandemic struck, production professionals quickly found new ways to forge ahead, even amidst travel restrictions and social distancing regulations. To keep productions on the rails, remote workflows became the industry's new normal, and professionals looked to technology to support everything from longer distance cable runs on-set to geographically dispersed monitoring and review sessions. Well positioned for the shift, UK-based Director of Photography (DoP) Michael Sanders had already dabbled in remote production for documentary films, corporate videos, and other projects for nearly a decade. In building out and refining his workflow over the years, Sanders quickly uncovered the AJA U-TAP SDI USB 3.0 capture device, which is now part of his standard camera kit.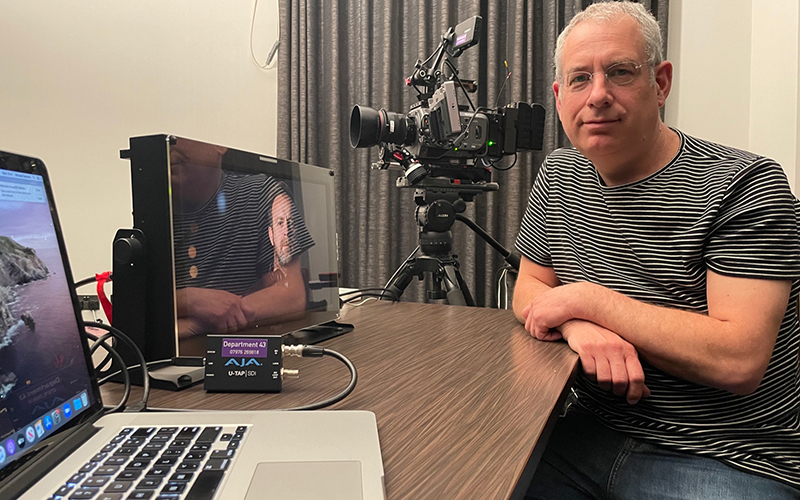 "Whether the production team is overseas and cannot travel or we simply need to reduce the number of people in a room, streaming the output of a camera is now standard practice, and U-TAP is an ideal tool for the job. It's portable and plug-and-play, and most importantly it doesn't require a power supply, as it's bus powered," he shared. "U-TAP is also so versatile; it supports nearly every format and frame rate imaginable. The fact that it also works with multiple frame rates from 23.98 upwards to 60p means that I only need one box to serve a range of clients."   
Sanders' workflow gives him the flexibility to provide a stable connection so that the interview can take place regardless of how far apart the production team and interviewee are located. For one of Sanders' first post-lockdown projects, a feature documentary, the director, production crew, and script writer were stationed in the US, but the interview subject was located in the UK. To facilitate a real-time connection between the group, the output from the camera was fed to the U-TAP, which just appeared as a source in Zoom. Connected to the Zoom feed, the production team was able to watch, listen in, and monitor the shoot in real-time. With the sound recordist's audio mixer connected to the camera, the U-TAP could then extract the audio from the embedded SDI stream, and the team watching over Zoom didn't experience any audio sync issues.
Sanders also recently leveraged the U-TAP to deliver an earnings report live stream from a European company to a global audience. Using two identical camera set-ups located in different offices within the same building, one for the CEO and the other for the CFO, in addition to two U-TAPs and a collection of other gear, the team was able to send high quality signals from the UK to the US over the internet. In the US, the UK feeds were integrated with three separate feeds from other members of the executive team using vMix Call. Sanders said, "Because U-TAP supports 1080p, we could easily send our signal over the internet at a quality that was high enough for a remote director to perform a very good chroma key and unify the output of the five remote sites. Although this can be done with other hardware, the U-TAP is so reliable that it gives me a feeling of confidence that it won't suddenly stop working in the middle of such an important event."
While remote workflows have been standard practice for Sanders for some time now, he expects that the advantages made apparent to the larger industry throughout the pandemic will be hard to ignore moving forward, especially the cost-efficiency aspect of them. Additionally, he sees the practice opening new doors for projects that may not have previously proven feasible due to budgets, logistics, and travel. For these reasons, Sanders expects that the media and entertainment and live event/proAV industries will continue to embrace a hybrid on-site/remote production approach moving forward, even as travel and lockdown restrictions ease. 
Whatever the approach, Sanders is confident that AJA U-TAP will remain a key part of his workflow. He concluded, "U-TAP is my go-to for remote production because I don't need to think about it. I just plug it in and it's there, available as source in any app. It may sound boring, but what you need from any piece of kit in this industry is: reliability, ease of use and support when something does go wrong. With U-TAP, AJA provides all three." 
About AJA U-TAP 
AJA U-TAP devices are 3G-SDI or HDMI USB 3.0 capture solutions that bring professional connectivity and high-quality video capture to laptops and workstations. A bus-powered device with the ability to simply and easily bring in video across 3G-SDI or HDMI for use within a wide range of software without any drivers to install, U-TAP is supported directly in macOS®, Windows® and Linux®. www.aja.com/products/u-tap-sdi and www.aja.com/products/u-tap-hdmi
About AJA Video Systems, Inc.
Since 1993, AJA Video has been a leading manufacturer of video interface technologies, converters, digital video recording solutions and professional cameras, bringing high-quality, cost-effective products to the professional, broadcast and post-production markets. AJA products are designed and manufactured at our facilities in Grass Valley, California, and sold through an extensive sales channel of resellers and systems integrators around the world. For further information, please see our website at www.aja.com. 
Products Used
U-TAP HDMI

U-TAP SDI