Astora Digital on Setting the New Standard for DITs in China
September 12, 2023
The continued rise of LED virtual production, HDR, and remote work is introducing new technologies and challenges into on-set and post production workflows, making the role of the Digital Imaging Technician (DIT) increasingly invaluable. While established in the West, the DIT role is just beginning to emerge in China. Astora Digital was founded in 2020 in Beijing to help set the DIT standard and support film, TV, and advertising productions in transitioning to new models. The company provides video technology, workflow solutions, and post services, relying on AJA ColorBox, Io 4K Plus, KONA 5, Corvid 44 12G, HELO Plus, and other technologies to advance the state of the art in the region. CEO Marco Wang, Workflow Managers Edge Dong and Vincent Zou, and Color Manager Lucas Lin take us through some of the complexities these emerging workflows present and how Astora Digital is addressing them.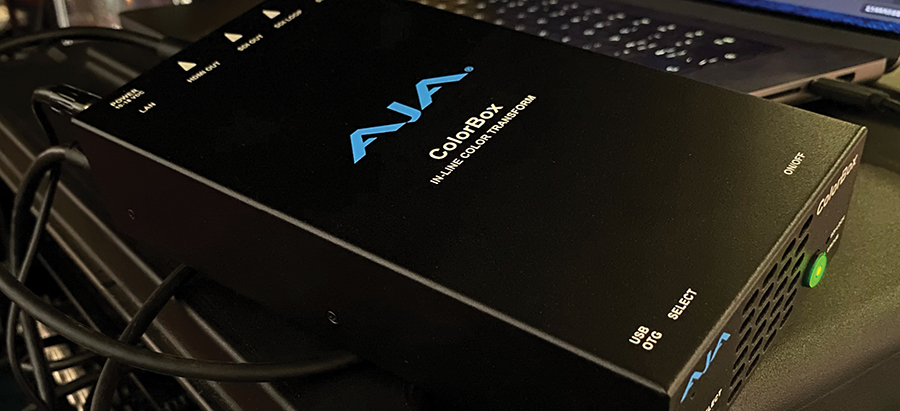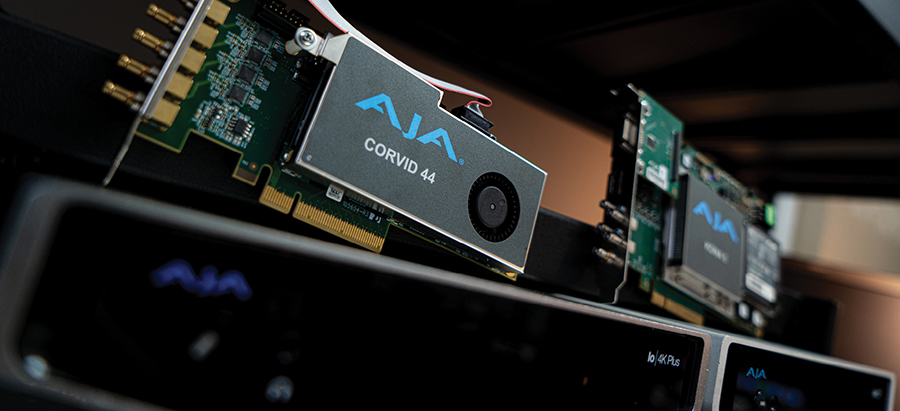 Who are your clients and what do you do for them?
Marco: Astora Digital primarily services advertising agencies and film production companies on projects based in mainland China, with a focus on Beijing, Jiangsu, Zhejiang, and Shanghai. Some of our notable projects include Tencent's "Hi Director," a Ford launch event, MediaStorm's "8K Helicopter Aerial Footage," and films like "Break Out," "Steel Will," and "I Dreamed a Dream," among others. We provide a range of services from on-set color to video assist, remote cooperation/remote collaboration, digital dailies, film and TV post, workflow design and integration, equipment rentals, and technical education and workflow promotion. 
What does your day-to-day look like? 
Marco: We serve as the backbone of the entire production team, functioning as the data and quality control center; we're also the technical team that applies film and video technology on-set to support the creative aspects of production. Our daily tasks encompass everything from data management to on-set color grading, digital dailies, and more. We aim to ensure smooth communication and collaboration among various departments, while seamlessly integrating digital and artistic creativity. Furthermore, we're passionate about exploring new technologies and innovating for every project. 
What do you find the most challenging about that work?
Marco: Communication. Large-scale production teams, whether at the creative or technical level, require everyone to work and communicate harmoniously. To meet the needs of dozens of people and departments – including directors, cinematographers, post, and VFX teams – and ensure that everyone accepts the final result, we need to build communication and utilize the technologies within the shooting schedule. Keeping communication perfect across stakeholders demands effective teamwork, problem-solving skills, and adaptability to meet unique requirements from the creative and technical sides of the production process.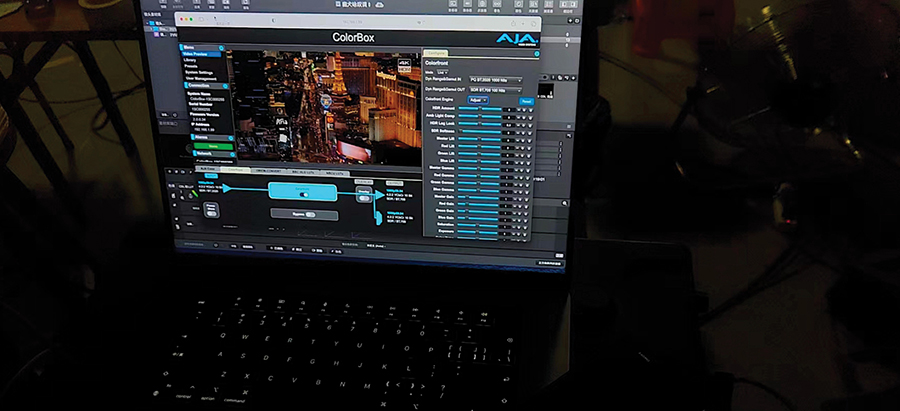 What new workflow and technology trends do you see impacting film/TV/commercial production?
Edge: Lately, we've been focused on virtual and HDR production, and remote collaboration within the domestic film and TV industries. HDR video's excellent contrast and rich colors provide a significant boost in terms of immersive experiences for audiences, particularly when viewed on high-quality displays. HDR technology is enriching artists' creative capabilities, allowing them to explore new visuals and aesthetic perspectives. 
LED virtual production is another area we're exploring. It has reduced shoot times and costs compared to traditional VFX production. Pre-visualizing the post process lets directors and cinematographers observe what the final results will look like, significantly alleviating production team concerns around visual aspects and eventual results. Unreal Engine's recent update with support for Dolby Vision also shows the trend of integrating HDR and LED virtual production ecosystems. The symbiotic technologies are creating new opportunities. 
Demand for international remote collaboration, which emerged during the pandemic as a critical component of production processes, persists. In response, manufacturers have developed different streaming and IP devices to support these requirements, such as AJA HELO Plus and AJA's new Dante AV Ultra products.
Which gear helps you support clients in embracing these new technologies and workflows?
Lucas: AJA ColorBox comes to mind. It plays a primary role in our projects, converting HDR content to SDR. It ensures that the creative intent is fully maintained when transitioning to SDR, allowing for accurate monitoring of SDR visuals on set. It also enables us to provide on-set HDR technical support in an unprecedented way. For instance, it supports higher-precision 3D LUTs, up to two 3x3 matrices, and up to four 1D LUTs. ColorBox also serves as an excellent signal generator during monitor calibration when paired with Calman software. Together, the two enable high-precision calibration for nearly any type of display.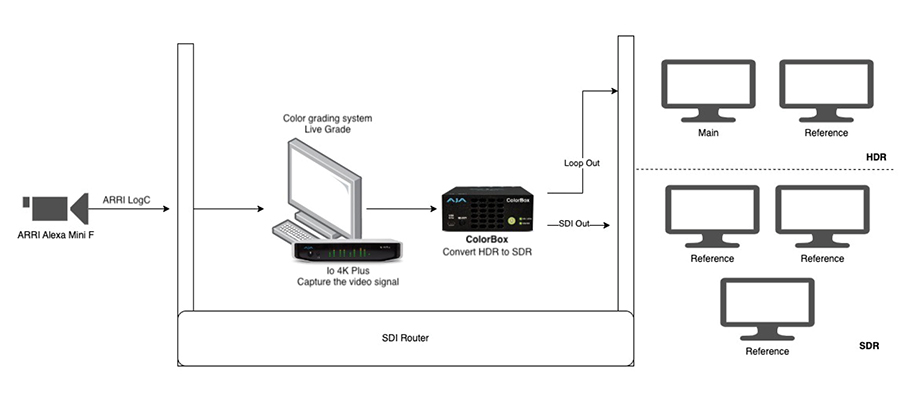 Do you work in SDR and HDR simultaneously? 
Lucas: Yes, HDR technology provides a level of realism in visual presentation that was previously unmatched by any display technology. For film and TV production, HDR is like a larger "canvas" that allows us to use richer colors and higher brightness to portray more lifelike, detailed visuals. Previously achieving simultaneous HDR and SDR monitoring and adjustment required more LUT boxes and equipment, making stable operation and signal management in fast-paced shooting environments more challenging for the DIT department. ColorBox significantly simplifies the workflow and makes the process straightforward and manageable.       
Marco: ColorBox's low latency is also beneficial to our work. Given the frequent changes in scenes and camera setups, there is a high demand for adjustments on-set, and latency can impact overall efficiency on set. ColorBox offers very minimal latency during adjustments.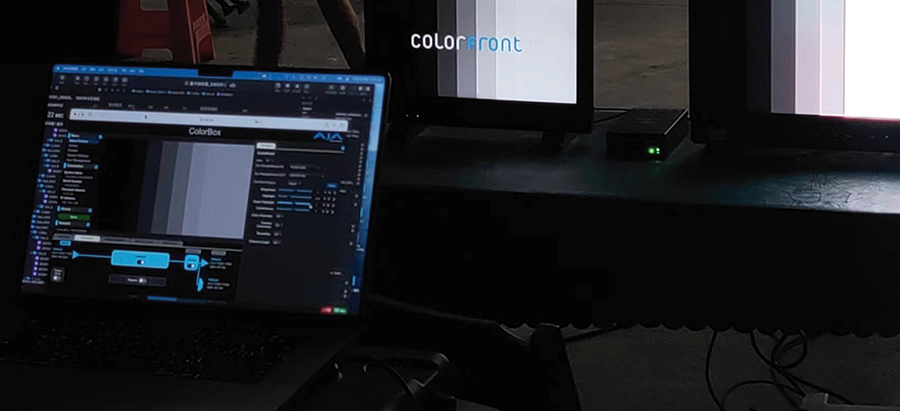 In addition to low latency, what stands out to you about ColorBox?
Lucas: ColorBox includes a color processing mode known as the AJA Color Pipeline. This integrated pipeline enables us to maintain color consistency at every stage of production, providing valuable support for cinematographers to supervise LED color control in virtual production work. ColorBox also supports LUT accuracy and can stack 1D LUTs, which, in our opinion, makes ColorBox unique. This allows us to easily make adjustments and provides greater flexibility for gamma mapping and adjusting the gain of the RGB channel. The use of 1D LUTs is highly important for visual matching and correction, whether it's for black balance or color saturation. This helps solve the issue of "homochromatic metamerism," which is a common problem in LED shoots.
Marco: I also like the Colorfront Pipeline. It offers a clear and straightforward automatic transformation mode, making it easy for first-time users to quickly get acquainted. It also provides a high level of customization, offering fine-tuning options and overlay annotations.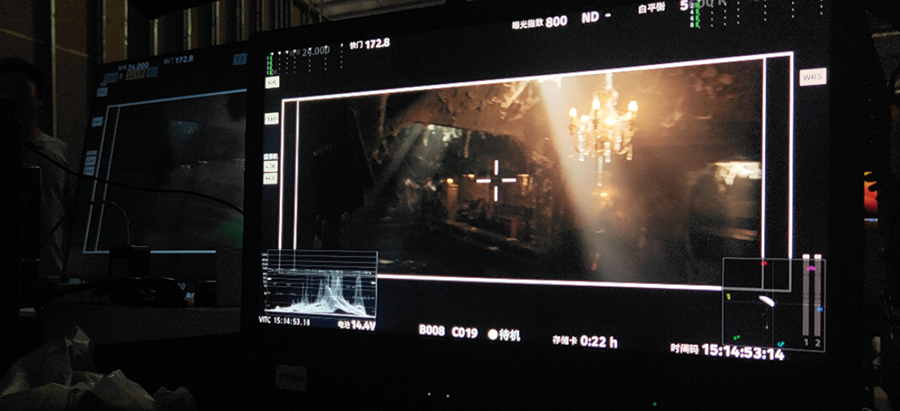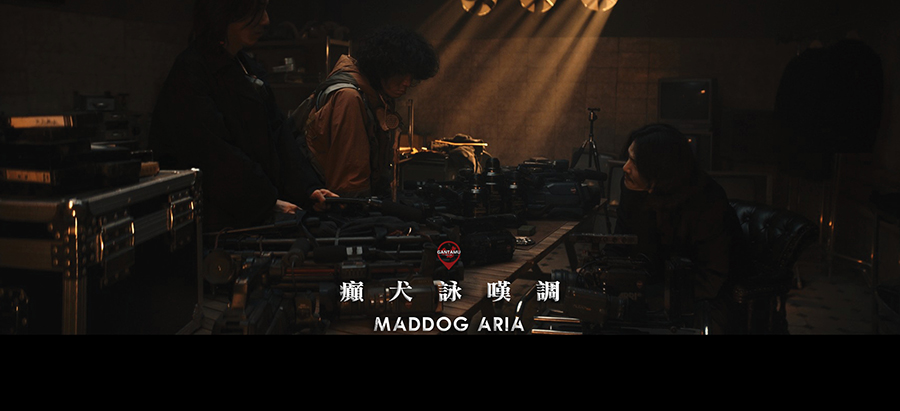 How are you using ColorBox across projects?
Marco: For HDR VFX on "Maddog Aria," we developed an SDR and HDR full-process monitoring and live color-grading workflow on-set based on the director's requirements. We unified the colors between pre-production and post, using the ACES standard for on-set color management for pre-production and applying color grading and VFX color management for post. Director Galenus Zhou was impressed with how we maintained the quality and accuracy of the captured materials with the immediate feedback generated by ColorBox. He even said it enhanced overall work efficiency because the crew could fully trust what they saw on the screen, and that is the world they are creating.
For other projects, we have designed and set up an integrated video assist system with AJA's hardware components to use with Live Grade Studio and QTAKE. Notably, we made use of AJA ColorBox for simultaneous SDR and HDR previewing. ColorBox offers a wide range of down-conversion solutions from HDR to SDR. By integrating ColorBox into our signal processing chain, we were able to optimize our LUT box resources significantly. ColorBox's real-time and automatic signal conversion capabilities reduced the time and cost of equipment, allowing us to focus more on on-set HDR color grading. After setting the desired HDR style, we only needed to make minor adjustments to ColorBox's conversion parameter.
What's your typical color pipeline -- and which technologies support each step?
Lucas: Our workflow often starts with an ARRI Alexa Mini LF camera source with LogC, which goes through a router to color grading. We use the ColorBox Colorfront pipeline for HDR to SDR conversion so the director can monitor HDR and SDR simultaneously with one main HDR monitor and another for reference. We also have three SDR reference monitors. 
Vincent Zou: Our capture equipment, routers, and main control-level monitors are all 12G-SDI. However, prevailing restrictions within domestic video transmission hardware have led to on-site processed video transmissions remaining at 1080p, 24 frames per second. We also provide sample processing at 4K and even up to 8K HDR based on the original sources given. These samples are used for directors to review and cinematographers to assess the filming results. Despite the hardware constraints, our setup is designed to ensure high-quality output. The high-resolution samples we provide for review and guidance purposes enable the creative team to make informed decisions during their daily filmmaking process. We also use ColorBox to perform real-time color adjustments based on the camera output to achieve the expected color effects of the director and the cinematographers. This process establishes a strong foundation for post and contributes to maintaining the color consistency, ensuring that captured footage aligns with the intended visuals. 
How has ColorBox changed your day-to-day? 
Lucas: ColorBox has optimized our entire workflow, reducing the issues and costs associated with frequent communication between different departments. With it, we are also able to apply the highest specification LUT (33pt), which significantly reduces issues like posterization in high-brightness and high-saturation work scenarios. 
Edge: Previously, we'd need to prepare a significant amount of LUT boxes to process SDR and HDR signals simultaneously. Now we can achieve real-time SDR and HDR monitoring on one single line while maintaining workflow stability with ColorBox. Using other LUT box products would require a lot more equipment from ethernet switches to SDI routers, and monitors. ColorBox offers high compatibility along with different built-in features and a well-developed web user interface, fulfilling a variety of on-site requirements without extra equipment. It also stands out as the only on-set color management device available in the current market that integrates multiple powerful features and offers a plug-and-play user experience. ColorBox contains trusted durability and reliability from the AJA brand while incorporating robust built-in color processing pipelines like the AJA Color Pipeline and the highly acclaimed Colorfront pipeline, along with many other powerful functionalities. 
Marco: Stability is also crucial to our work, and ColorBox features excellent heat dissipation design. We once worked in a coastal region with high humidity and temperature for a project for nearly 16 to 18 hours each day. The temperature would reach 35°C and humidity exceeding 80%. Despite these challenges, ColorBox still continued to operate reliably.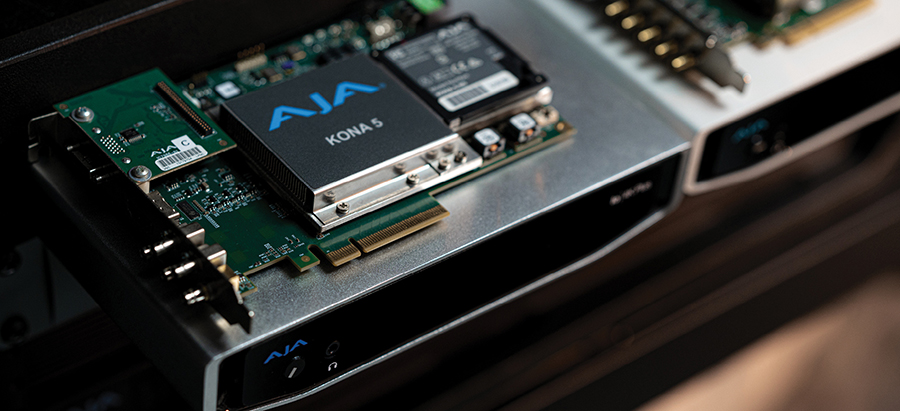 Describe your experience working with AJA gear like ColorBox.
Marco: We started using AJA devices early on. One of the most memorable experiences was when we noticed that all the video and audio content in a program was captured using AJA capture devices and stored in AJA recorders. That sparked our strong interest in AJA products. Besides using AJA's video assist system in the film and television industry, we also apply AJA technology in live broadcasting and recording. AJA's capture devices like Io 4K Plus and KONA 5 can be utilized with OBS for live streaming HDR video on platforms like YouTube. Additionally, we use them for recording HDR content for hosting gaming programs. With the correct settings, you can clearly see the color space and gamma of the video stream being processed in the AJA Control Panel. Overall, our experience working with ColorBox and other AJA devices over the years has been fantastic. 
Do you have any advice for those who want to work in this industry?
Marco: Stay humble and keep learning. The technology is rapidly evolving, it's crucial to maintain a passion for innovation and a keen sense for trends. Be eager to share knowledge and embrace a genuine love for the industry.
About AJA ColorBox
AJA ColorBox is a powerful video processing device designed to perform LUT-based color transformations and offers advanced-level color science with AJA Color Pipeline, as well as several look management approaches including Colorfront, ORION-CONVERT, BBC, and NBCU LUTs. Featuring 12G-SDI in/out and HDMI 2.0 out, AJA ColorBox is capable of up to 4K/UltraHD 60p 10-bit YCbCr 4:2:2 and 30p 12-bit RGB 4:4:4 output, perfect for live production, on-set production, and post-production work. ColorBox's browser-based user interface makes it simple to adjust color processing settings, whether connecting directly via ethernet or via a third-party WiFi adapter.
About AJA Video Systems
Since 1993, AJA Video Systems has been a leading manufacturer of video interface technologies, converters, digital video recording solutions, and professional cameras, bringing high-quality, cost-effective products to the professional broadcast, video, and post production markets. AJA products are designed and manufactured at our facilities in Grass Valley, California, and sold through an extensive sales channel of resellers and systems integrators around the world. For further information, please see our website at www.aja.com.
All trademarks and copyrights are the property of their respective owners.