Nits.Lab on Trailblazing HDR Workflows in Brazil 
September 8, 2023
High dynamic range (HDR) is broadening storytelling capabilities, making for richer audience experiences. In the last few years, demand for the advanced format has been growing in Latin America, especially in Brazil, where independent creative studio Nits.Lab is helping to pave the way for greater HDR workflow adoption from production through post. Co-Founders Rodrigo Bodstein and Rafael Lopes recently spoke with us about the work they're doing to help professionals unlock the creative advantages HDR offers.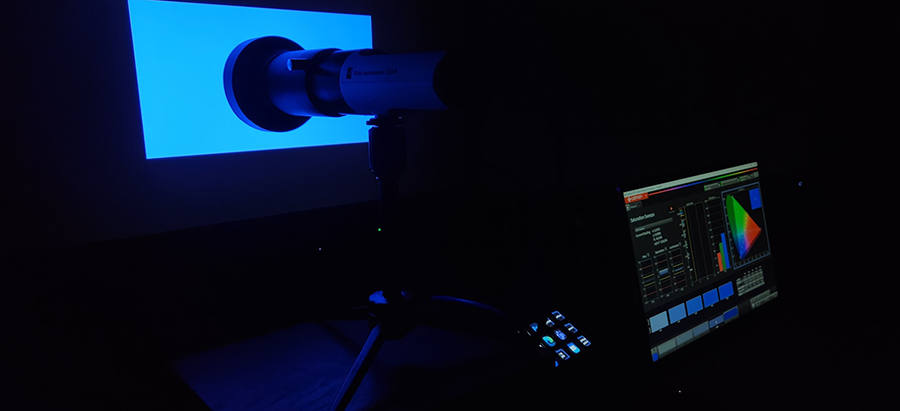 How would you describe Nits.Lab?
Rodrigo: Nits.Lab is a boutique post production studio based in Brazil that my partner, Rafael, and I recently launched. We provide DIT and color services for commercial, episodic, documentary, and feature film projects. We also offer calibration services. In fact, we are the first colorist and DIT in Brazil to be certified by the Professional Video Alliance. In addition to these services, we also run camera and lens tests, and do consulting work. We've built a studio with an HDR-capable post suite and portable DIT cart that we take with us on set. Our goal is to start building a better HDR knowledge base in the region, so we're publishing a lot of our test results as a guide for other professionals to use.
Tell us more about your DIT cart. 
Rafael: Our DIT cart includes many technologies, including two AJA ColorBox color converters, an AJA Io 4K Plus for I/O, and an AJA KUMO 3232-12G router. Together, they help us manage color across SDR and HDR productions; they're essential components and perfectly match our workflow. We also use a range of monitors and the Colorfront Engine and the AJA Color Pipeline in ColorBox for transformations when we need to have SDR and HDR side by side, in addition to the Colorfront streaming server for remote reviews. Eventually, we're looking at adding another ColorBox into our color suite so that we can send the signal to another TV for client viewing. Recently, we did a test, and it was amazing how well it mapped.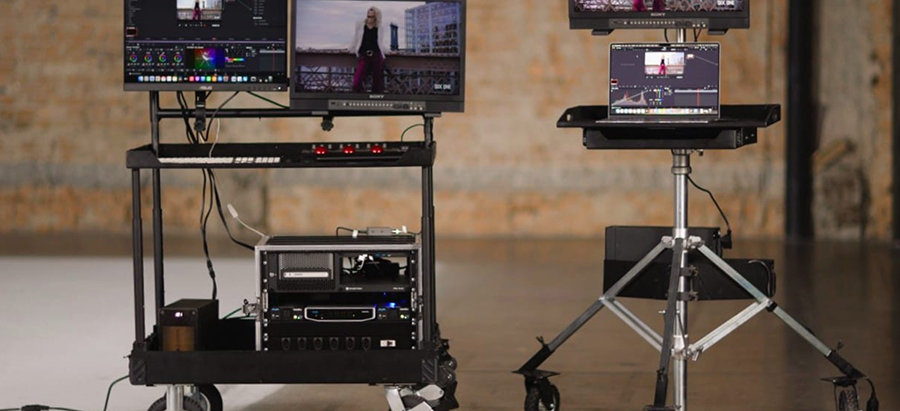 What does an end-to-end workflow look like on a typical project? 
Rodrigo: We've built a few different setups, but 12G-SDI routing is always part of the design. In one workflow, we have a Mac Studio as our main station doing the live grade, while a MacBook Pro supports ingest and offload. The KUMO 12G-SDI router sits at the center of the signal path so we can have full control over signal distribution and routing. We set up a salvo for each specific workflow on the KUMO, so we can save several profiles for different types of work. For example, we have one salvo for live grading, one for broadcast, and another for our color grading, color correction, VFX, and editing work. 
For live grading, the inputs and outputs of two ColorBoxes, the Io 4K Plus, and two Sony monitors are linked to the KUMO. Camera signals are fed through our KUMO into the Io 4K Plus and through the ColorBoxes to the monitors. Depending on the project, one monitor can be set in SDR and the other in HDR or both in SDR or in HDR. We then use Pomfort Livegrade Pro software to control the dynamic LUT from the AJA Color Pipeline in ColorBox. Our work is mainly centered around an ACES pipeline, and we use the integration of Pomfort Livegrade Pro and Pomfort Silverstack Lab to create the dailies with all the demands for each client (burn-ins, metadata etc). This helps ensure color consistency throughout the process.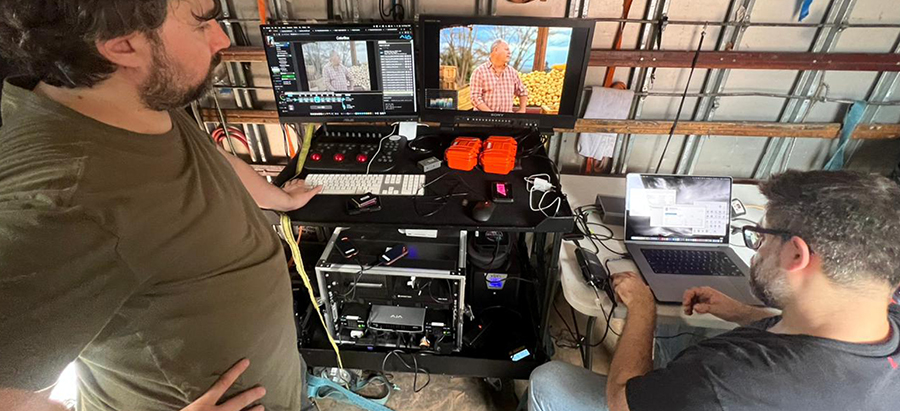 Rafael: We also use Io 4K Plus, which includes four bi-directional 12G-SDI inputs and can handle all HDR workflows; it allows us to send test patterns to our monitors, and also helps us do express captures for dailies. Outside of the 12G-SDI portions of our workflow, we also use the Tangent Wave control panel, a Stream Deck where we keep our shortcuts, RAID storage, and a 40TB Lacie for backup and transport. All this technology is connected to our Mac Studio M1 Ultra with 128GB RAM. Everything is connected via ethernet. We also use a CalDigit TS4 hub with the pro-grade media readers and the MacBook Pro M1 Max with 2TB storage and 64GB RAM. In addition to these tools, for remote workflows, we also use the Colorfront Streaming Server, Iconik for cloud media management and collaboration, and the Pomfort ShotHub. 
On documentary projects, we also love using ColorBox so that we can use the library to store project LUTs and frames. We recently did a documentary and this was great for the photographer to track and compare the lighting and composition from different locations. We also had some predefined LUTs that assisted our DP to make quick decisions during the shoot. On a black and white short film, we used ColorBox to do the transforms with its Colorfront engine pipeline. The project required precise monitoring for SDR and HDR. The ColorBox enabled the photographer to evaluate the image and ensure in-frame elements were not too distracting.
Rodrigo: Beforehand, we usually like to discuss the photographer's needs with them, so we can be part of the preproduction process and have a show LUT with the HDR monitoring on location. This helps the client, director, and team feel confident that they will get what they want visually and streamlines the post process. The editor receives the dailies with the look adapted to the display they will use, so when it comes back to us for the color work, we have no surprises.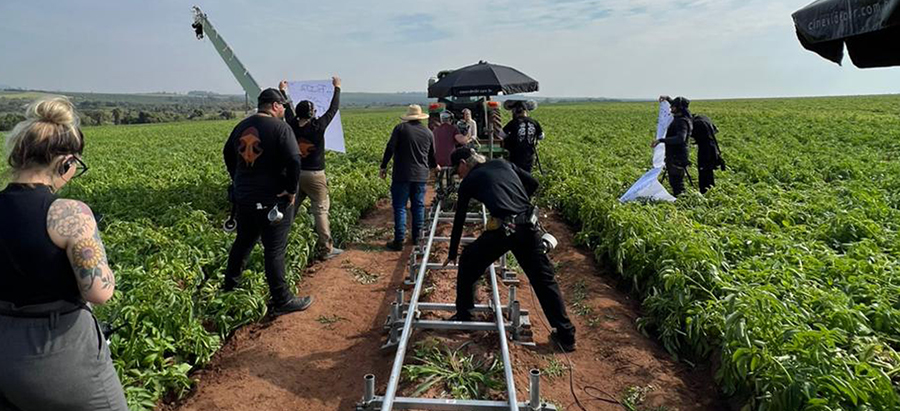 Are you working largely in HDR or SDR? 
Rodrigo: We do most of our work in SDR, but client preferences are slowly shifting to HDR. It's gaining momentum here in Brazil as the major streamers show the narrative possibilities of HDR, and quite a few of the larger studios, as well as a few post houses, are already experimenting with HDR delivery. However, adoption isn't quite as strong yet as it is in the U.S. We're working to help the market transition, and make HDR more accessible here. We want to give professionals the tools they need to get up to speed on HDR and explore its narrative implications, so they can continue pushing content forward visually. 
Rafael: With the transition, it's important for project stakeholders to be able to see HDR footage alongside SDR footage. They may not understand how the PQ curve works, or why 12-bit signals are necessary, but they need to feel the difference and how it impacts the final product. We want them to see how they can control the image and feel safe with HDR, even if some lenses have flares in HDR that don't work. AJA solutions, in tandem with Colorfront, are amazing at shaping HDR in live and on-set situations. We love and use them both a lot.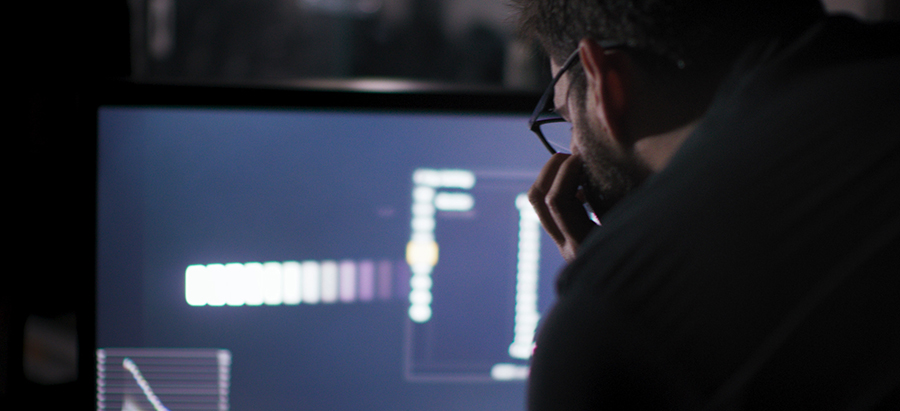 How is HDR changing narrative possibilities? 
Rodrigo: In broad terms, HDR allows us to have a much bigger palette and color volume, and greater luminance, which makes a huge difference. While it provides a view that more closely mirrors the human vision system, and we can see more shadow details, how our clients use that for storytelling is up to them, and that's part of the fun. We're working to give them the tools they need to unlock and determine the creative opportunities for themselves. 
Rafael: We want our clients to feel safe with HDR, and that they have room to uncover its possibilities. They can deliver their content in both SDR and HDR simultaneously in real time, while gaining a better understanding of the process. Our AJA solutions are a key enabler for this kind of live experimentation, as they make it easier to propose new options and color tests for clients. The real-time ColorBox pipeline is essential. We can experiment on set, see the results, adjust in real time, and easily pass that guidance and direction along to the post facility in the color suite for greater look consistency. Knowing that the vision and the look you created and recorded on-set will be carried through until final delivery is invaluable. 
What trends and technologies are you tracking? 
Rafael: Virtual production and artificial intelligence (AI) are incredibly powerful. We're currently working to adapt our workflow using AI tools. Right now, we're experimenting with Colourlab.ai for color grading, and we're also trying to implement it with our DIT workflow to streamline post. We're also keen on following new display technologies as well. 
Tell us about your favorite part of your job. 
Rafael: I love transforming a vision into tangible imagery, and creating multiple options, and colors and paints. It's so fun to talk with the photographer or director and watch as their vision is achieved in real-time. I love it when they're happy with the final product. 
Rodrigo: I get a thrill from balancing the colors and seeing the impact it has on people's emotions in a collaborative environment, especially when everything just locks into place, and it feels right. It's like we're designing feelings. I also love finding the images within the images. 
What guidance would you offer to others just getting started in your line of work? 
Rodrigo: To deliver the best possible product, ALWAYS test your workflow. Make sure you have the proper technology to accomplish what you set out to do; understand those technologies and know their limits so you can achieve the consistency you need. Outside of the technology, think about the human side, and lean into storytelling. Try to find the right balance. 
For more information about Nits.Lab, visit www.nitslab.com.br or at @nits.lab on instagram. Also, the company's tests are published on: https://medium.com/@nitslab
About AJA ColorBox
AJA ColorBox is a powerful video processing device designed to perform LUT-based color transformations and offers advanced-level color science with AJA Color Pipeline, as well as several look management approaches including Colorfront, ORION-CONVERT, BBC, and NBCU. Featuring 12G-SDI in/out and HDMI 2.0 out, AJA ColorBox  is capable of processing up to 4K/UltraHD 60p 10-bit YCbCr 4:2:2 and 30p 12-bit RGB 4:4:4, perfect for live production, on-set production, and post-production work. ColorBox's browser-based user interface makes it simple to adjust color processing settings, whether connecting directly via Ethernet or via a third-party WiFi adapter.
About AJA Video Systems
Since 1993, AJA Video Systems has been a leading manufacturer of video interface technologies, converters, digital video recording solutions and professional cameras, bringing high quality, cost effective products to the professional broadcast, video and post production markets. AJA products are designed and manufactured at our facilities in Grass Valley, California, and sold through an extensive sales channel of resellers and systems integrators around the world. For further information, please see our website at www.aja.com.
All trademarks and copyrights are property of their respective owners.
Products Used
ColorBox

Io 4K Plus

KUMO 3232-12G