Studio Berlin: Moving the HDR Needle Forward
June 14, 2021
As content producers continue to pursue the highest possible picture quality to align with modern audience expectations, HDR has quickly become a go-to format in productions around the world for both the creation of live and on-demand content. An early HDR adopter and technological innovator, Studio Berlin began building out its HDR pipeline long before HDR hit the mainstream. We recently caught up with Matthias Alexandru, the studio's CTO. The conversation revealed interesting insights into the company and its approach to UltraHD HDR production, which can be found in the following interview:
What is Studio Berlin's core line of business? 
Studio Berlin is a technology company at its core. We provide comprehensive services to clients in film and entertainment, from outside broadcast (OB) production for live sports and entertainment to studio production for private and public broadcasts from fixed control rooms in our Berlin and Hamburg studios. We also offer mobile production for reality series via custom fly packs, post production out of our facilities in Berlin, Cologne and Munich, and technical support for all projects. 
Studio Berlin manages an OB fleet made up of five vans, which we use on sports projects like the Bundesliga, the ISTAF in Berlin, the GT Masters or handball, but also for entertainment programs such as "Joko and Klaas against Pro7," "Who knows something like that from" or "Schlag den Star." Productions like "Late Night" with Klaas Heufer-Umlauf, "Anne Will" and "Hart aber fair" are done out of our studios. Regardless of the time of day, it can be assumed that at least one local TV channel will show a production that Studio Berlin has touched daily.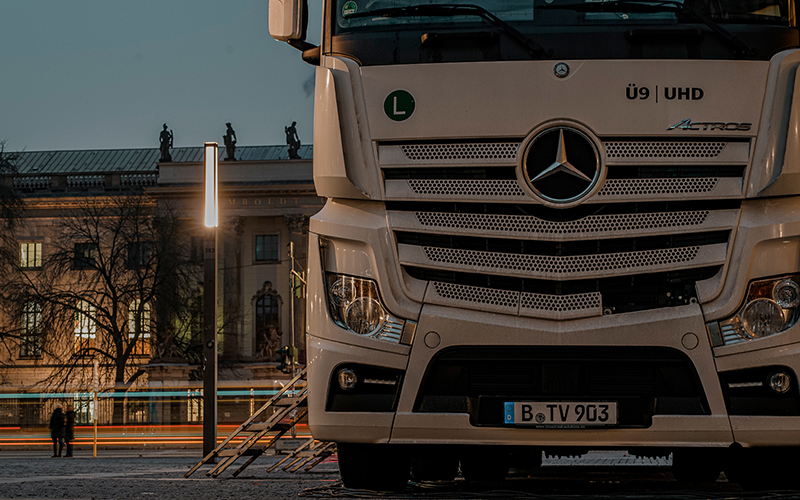 How did you get into technology services and what do you love most about your job?
More than 25 years ago, I started my career at Studio Hamburg, where I found my calling, first as a video technician and later as an OB van manager. During this time, I produced television shows for many stations and television programs. Today, I'm CTO at Studio Berlin, where I help spearhead pipeline development and oversee employee training. Personally, my favorite part of the job is getting to be on the ground for events like the FIFA World Cup in Japan, though more generally, I look forward to launching projects and introducing new technologies into our day-to-day production workflow that ultimately benefit our customers.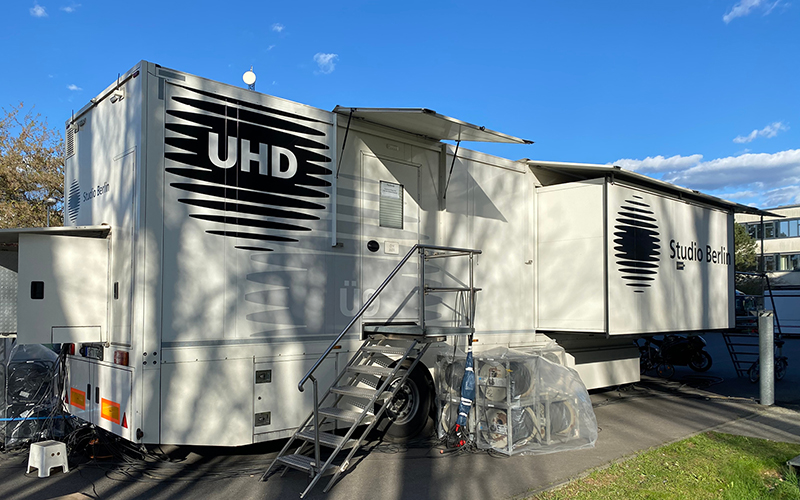 Describe your end-to-end workflow for productions. 
More and more Studio Berlin productions are being done natively in UltraHD HDR, which is possible because of a bespoke workflow we've crafted over the years and continue to refine. That said, the technology we deploy is tailored to match the unique demands of each production. Much of our work is proprietary, so I cannot delve too deep into the details, but what I can tell you is that the underlying technology we use across projects is similar, and with each new production, we combine the knowledge and experience we've gleaned from previous work with emerging technology to advance the visual quality achievable. 
High-quality cameras, wireless video transmission links and UltraHD HDR monitors are all standard across productions, and when we need to keep monitoring costs down, we also use the AJA Hi5-4K-Plus Mini-Converter for displaying UltraHD HDR material on consumer HDMI monitors. For most UltraHD HDR broadcasts, we're also dealing with HD SDR, as the content was previously shot in HD SDR or even SD SDR. To manage the associated challenges, we lean heavily on AJA's real-time HDR/WCG converter FS-HDR, as it provides a diverse assortment of settings that allow us to adapt to whatever source material we're working with to achieve the desired output. It also helps us implement the various formats required at the end of the production chain.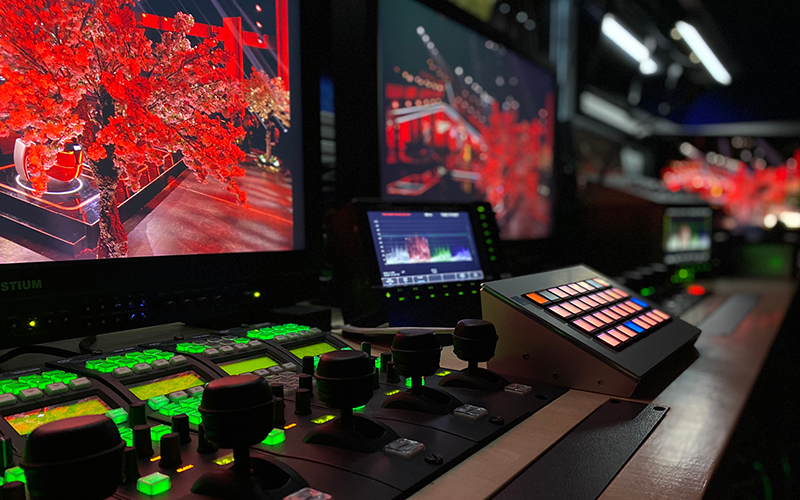 Tell us about a few projects on which you've deployed the workflow. 
We recently used it to broadcast live content to Astra's UltraHD channel, and in parallel, convert and map the production in HD SDR for distribution to other channels. In the case of the "Europakonzert", a classical concert from the Philharmonie in Berlin that Studio Berlin helped produce and broadcast this past May, we recorded camera signals individually in UltraHD to provide the editorial team with the highest quality source material for post-production.
Why do you prefer to work in UltraHD HDR? 
To a certain extent, Studio Berlin has helped pave the way for HDR in entertainment television. The demand for HDR, especially for sports productions, was initially driven by a desire to combat shadows in stadiums. Even as some companies were starting to dabble in it, we wanted to take it a step further and use HDR in the field. The extended color next to the luminance space is certainly one of the most obvious reasons to produce in HDR, but over time, with the help of our customers and creative picture designers, we've also come to learn that HDR allows you to extract a lot more detail from the picture. We've produced numerous Berlin State Opera productions in HDR, as well as the program "Voice Kids" from our studio in Adlershof. Because we convert the UltraHD HDR product into HD SDR via the AJA FS-HDR, versus running parallel Ultra HD HDR and HD SDR productions, our customer's audience benefits from a more captivating image in both HDR and SDR, yet we save the time, equipment and personnel costs that parallel production would incur.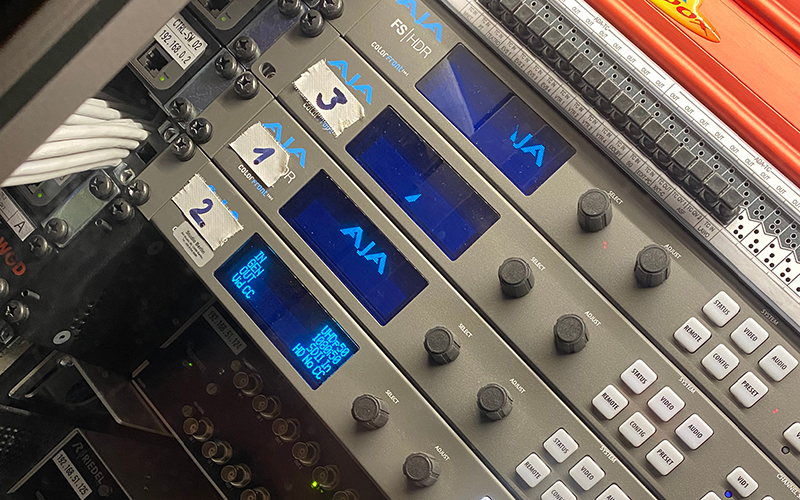 What makes FS-HDR a fit for your pipeline? 
A majority of modern productions harness UltraHD and HDR capable video equipment, and FS-HDR has become a standard for mapping. The sheer flexibility of the device was another key factor in our decision to use it. FS-HDR provides a broad range of functionality, an intuitive user interface, and unmatched reliability. AJA also continues to release new firmware updates that make the technology that much more robust and our jobs that much easier. The fact that we currently have five FS-HDRs in our workflow speaks volumes. 
Which technology trends are you following and why? 
Our new UltraHD HDR OB build is expected to reach completion this summer and will reveal more insight into the trends we're focused on. From UltraHD to HDR to IP, AI and ML and beyond, at Studio Berlin we're always investigating emerging technology innovations and production techniques. We listen carefully and develop concepts for our customers to ensure their content is engaging for audiences. With a highly motivated team, we hope to continue surprising ourselves and others. 
About AJA FS-HDR
FS-HDR is a versatile 1RU, rack-mount universal converter/frame synchronizer for real-time HDR transforms as well as 4K/HD up/down/cross conversions. Fusing AJA's production-proven FS frame synchronization and conversion technology with video and color space processing algorithms from the award-winning Colorfront Engine, FS-HDR matches the real-time, low-latency processing and color fidelity demands that broadcast, OTT, post production and ProAV environments require. www.aja.com/products/fs-hdr.
About AJA Video Systems, Inc.                                                                                                
Since 1993, AJA Video has been a leading manufacturer of video interface technologies, converters, digital video recording solutions and professional cameras, bringing high-quality, cost-effective products to the professional broadcast, video and post production markets. AJA products are designed and manufactured at our facilities in Grass Valley, California, and sold through an extensive sales channel of resellers and systems integrators around the world. For further information, please see our website at www.aja.com. 
Products Used
FS-HDR

Hi5-4K-Plus