Spin Digital: Driving 8K Production into the Future
September 5, 2023
In many parts of the world, 8K video production is taking off, and media solutions provider Spin Digital is rapidly envisioning new systems to accommodate the demand. When we last spoke with the Spin Digital team a few years ago, we learned about its media player product, Spin Player, which is capable of handling videos at exceptionally high resolutions – including 8K at 120 frames per second and even 16K – and supports SDI output through integrated AJA Corvid 44 12G and KONA 5 PCIe cards. 
We recently had the pleasure of catching up with Spin Digital CEO Mauricio Alvarez Mesa to chat about the company's latest Spin Enc Live 8K encoding solution and associated software development kit (SDK) called Spin SDK, which also rely on AJA I/O technology to ensure high quality viewer experiences with enhanced compression. Catering to high-end video applications, Spin Enc Live can capture and encode 8K content and seamlessly live stream it in real-time. Upon initial launch, it supported HEVC video, and at IBC this year, Spin Digital will debut newly added support for the VVC (H.266) codec. Continue reading to learn more.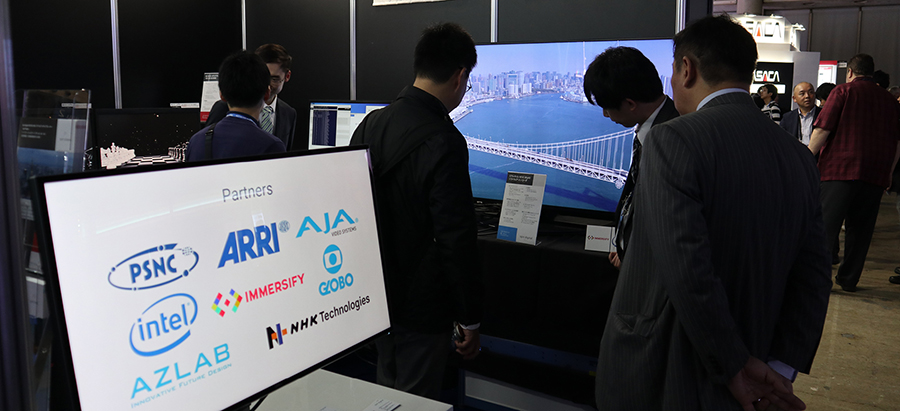 Tell us more about Spin Digital.
Spin Digital is headquartered in Berlin, Germany, but we also have an affiliate company in Japan. Six team members work out of our European office and three work in Asia. We develop high performance video and audio encoding/decoding solutions and media players that cater to a broad range of customers, including 8K broadcasters, companies live streaming 8K VR, and others displaying 16K content on video walls. Our job requires efficient video compression, unparalleled quality, and support for high frame rates and comprehensive audio. 
Much of our 8K work is based out of Japan, as the region is pioneering 8K broadcast workflows. In other parts of the world, we work with companies exploring live 360-degree VR video live streaming for live sports and concerts, which demands 8K or higher resolutions. We're also working with museums and planetariums that are upgrading or adopting 8K displays. In the last few years, we've begun to see more overlap between these spaces.
What is Spin Enc Live?
Spin Enc Live launched as an encoder for live production, originally capable of encoding in 8K at 60 frames per second using HEVC. With the latest update, it's now an 8K VVC encoder, which means it can proficiently process 8K resolution with HDR at  60 frames per second while reducing the bitrate by 25 percent or increasing the quality for the same bitrate. Spin Enc Live customers can now choose between HEVC and VVC based on their needs and preferences. We've designed the latest iteration with broadcasting professionals in mind, but it's also a great fit for companies pursuing 8K live streaming for concerts, events, and other venues. It's incredibly reliable, and we've seen it seamlessly support continuous live streaming for more than 20 hours a day for a range of high stakes projects.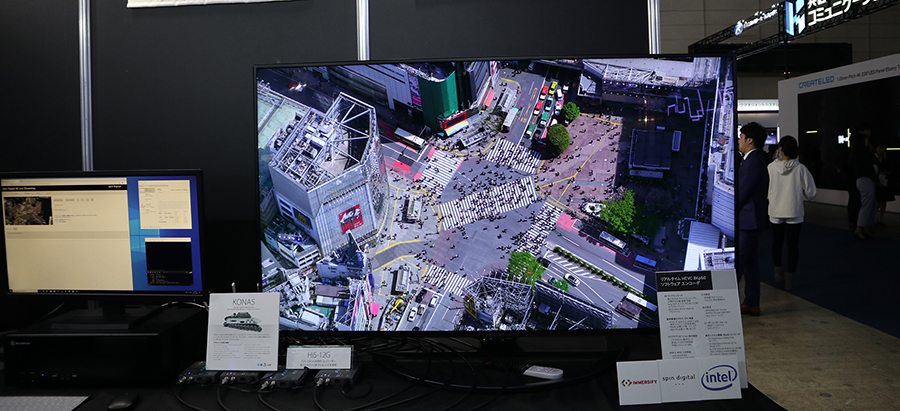 What do the new Spin Enc Live and SDK products enable?
The new VVC encoder achieves a 25 percent reduction in bitrate, while maintaining pristine visual quality compared to the existing HEVC encoder. More importantly, we've achieved this in real-time, all within practical server setups. We carefully selected components for our solution, including the AJA Corvid 44 12G and KONA 5 cards, which are highly ideal for live 8K applications and help us to capture 8K video at 60 fps with 10-bit HDR and the associated audio with very low delay and high reliability. Spin Enc Live and the Spin SDK ultimately provide better quality video with enhanced compression, without requiring excessive compute power, which can be impractical and increase costs quickly. 
Tell us more about the inspiration behind the new Spin Enc Live and SDK.
We developed the latest update of Spin Enc Live and Spin SDK, in part, based on customer demand, but also because we see VVC as the next generation of encoding technologies. Many of our customers are exploring VVC, and in Brazil, it's the primary codec for a new television standard known as TV 3.0. Similarly, in Japan, discussions around a new television standard are ongoing, with VVC taking a central role, and across Europe, broadcasters are considering the VVC standard as well.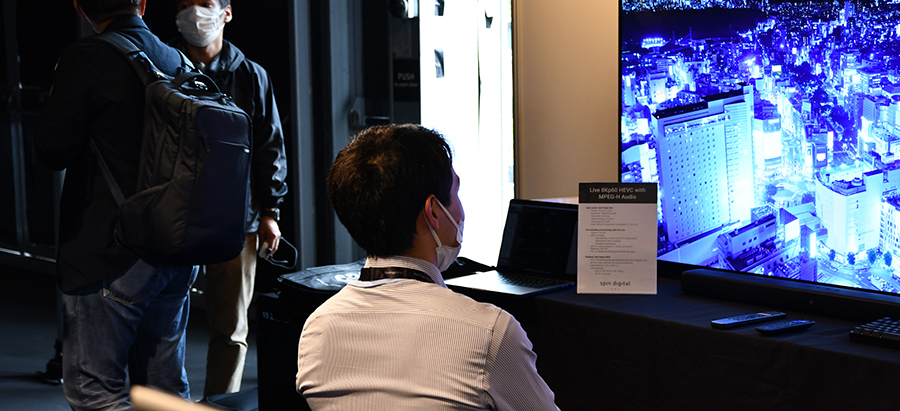 What differentiates Spin Enc Live from other technologies?
8K video doesn't make sense if it's marred by compression issues and poor image quality, and Spin Enc Live delivers powerful encoding with unparalleled image quality. While certain open source software can handle 8K, its complex nature often translates to a compromise on quality. The 8K encoding process also tends to be slow, making it more suitable for video-on-demand offline encoding rather than real-time use. Our solution stands out in our software implementation approach, which focuses on optimizing performance so clients can achieve real-time 8K encoding without compromising on quality.
How do AJA Corvid 44 12G and KONA 5 integrate with Spin Enc Live?
Corvid 44 12G is the main capture device in our solution for live production, but for customers who prefer desktop systems, we also integrate with KONA 5. Both cards provide the functionality our customers need in a compact format and with quad 12G-SDI connection. Our latest encoding solution, which will be on display at IBC, leverages these tools to capture uncompressed signals originating from live production, enabling seamless video and audio processing within our workflow. 
We recently put the solution to the test on a big sports event in Tokyo, for which we received signals from the Japanese broadcaster responsible for the live production. The production involved a range of cameras, mixers, and other essential equipment and signals were transmitted in SDI quad-link format. Once in our system, we captured the 8K signals, encoded them in real-time, and directed them to our streaming engine which included a cloud delivery mechanism. Subsequently, we live streamed the content over the internet and it was received at multiple locations worldwide. The AJA Corvid 44 12G played a crucial role in the signal capture process, facilitating efficient signal management for the 8K video and the 3D audio in the 22.2 channel format.
Why were Corvid 44 12G and KONA 5 the right fit for your solution?
With any SDI capture card we use, it's important that we have access to low-level functions within the SDK. This is especially crucial with 8K, where maintaining accurate timing and avoiding frame drops are paramount. With approximately 48GB of input data per second, precise handling is essential. It ensures we have a clear understanding of our operations. We can easily capture frames from Corvid and KONA cards for input into our encoder for processing without worrying about hidden or unexpected processes. They've proven highly effective for high-end applications. Furthermore, 8K production and streaming often means HDR is involved, and ensuring an accurate HDR signal input is key. Our AJA cards have demonstrated excellent performance on this front as well, whether dealing with PQ or HLG. We can effectively and reliably capture the metadata from the cards and seamlessly transmit this metadata through our encode.
Finally, Corvid 44 12G and KONA 5 offer us more flexibility for customers interested in departing from traditional 8K formats, like those looking to create panoramic, wide images, which involves stitching together four 4K cameras to generate a 16K by 2K image. With the AJA cards, our customers use the inputs as they wish, whether a 2x2, 4x4, or 1x4 configuration. It also supports some of our clients' unique audio needs. They may want to capture 16 channels of audio within one SDI link and another 16 channels within another, which the cards support. 
Tell us more about your experience in the AJA Developer Partner program. 
When initiating our 8K work a few years ago with AJA, we engaged in multiple discussions with their team, whose assistance was invaluable. We've been happy with the level of support they've provided throughout our journey. Sometimes we'll run into questions around the SDK, and we always get clear, timely answers to our questions, which is paramount to our business.
We're a longtime fan of AJA gear, and even use AJA KUMO 12G-SDI routers in our work with live production clients managing multiple incoming sources. We've also leveraged the Hi5-12G Mini-Converter, which helps produce the SDI output for our 8K media player, for system testing, and it's worked incredibly well. 
About Corvid 44 12G
AJA Corvid 44 12G is a blazingly fast, compact 8-lane PCIe 3.0 I/O card with four bidirectional 12G-SDI HD-BNC connections. Designed for today's most demanding video and audio workflows, Corvid 44 12G is available in several configurations, including full-height or low-profile, with passive or active cooling. Whether working with HFR 8K/4K/UltraHD, 2K/HD, SD, Deep Color and/or HDR, Corvid 44 12G provides unprecedented performance. Supporting 10-bit 4:2:2 and 4:4:4, at up to 12-bit color spaces, the card offers ingest and output over 12G-SDI, which is also backwards compatible with 6G-SDI, 3G-SDI, and 1.5G-SDI. Bidirectional 12G-SDI ports provide immense flexibility for capture and simultaneous pass-through for a range of solutions.
About KONA 5 
AJA KONA 5 is a blazingly fast, 8-lane PCIe 3.0 I/O card supporting the latest 12G-SDI I/O and HDMI 2.0 monitoring video connections, designed for workstations running macOS, Windows or Linux. The versatile I/O solution enables single-cable, 4K/UltraHD high frame rate, deep color, and HDR workflows with many popular creative applications on macOS, Windows, and Linux. Bidirectional 12G-SDI ports provide immense flexibility for capture and simultaneous pass through, and, with the appropriate software, multi-channel capture and streaming. For developers using the AJA SDK, it offers advanced features including multi-channel 4K I/O and 8K 60p support. 
About AJA Video Systems
Since 1993, AJA Video Systems has been a leading manufacturer of video interface technologies, converters, digital video recording solutions and professional cameras, bringing high quality, cost effective products to the professional broadcast, video and post production markets. AJA products are designed and manufactured at our facilities in Grass Valley, California, and sold through an extensive sales channel of resellers and systems integrators around the world. For further information, please see our website at www.aja.com.     
About Spin Digital
Spin Digital Video Technologies GmbH (Spin Digital) develops high-performance video codecs for the next generation of ultra-high-quality video applications. Spin Digital software solutions enable media applications that require the latest image and video processing enhancements including very high resolution (4K, 8K, and 16K), high dynamic range (HDR), high frame rate (HFR), wide color gamut, and 360° video and virtual reality. Spin Digital is based in Berlin, and operates in an international B2B environment, collaborating with customers and partners around the world and across market segments. For more information, visit: https://spin-digital.com/
All trademarks and copyrights are the property of their respective owners.