Shop Talk with Funicular Goats – Cinematic Multi-Camera Production 
June 6, 2023
While Funicular Goats' name is enough to make it stand out, the one-stop multi-camera cinematic production solutions shop has quickly made a name for itself across the live event, broadcast, and streaming production communities with its unmatched technical prowess. With co-founding trio Morgan Kellum, James Coker, and Aaron Cooke at the helm, Funicular Goats provides unmatched multi-camera equipment, workflow, and technical management expertise for a diverse range of projects, including big-name concert productions, the annual big game halftime show, comedy specials, and much more. We caught up with all three to chat about the work they're doing.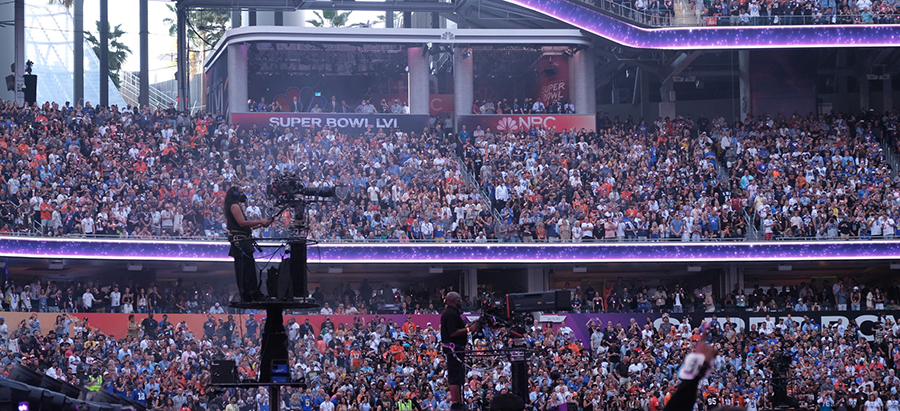 Why did you launch Funicular Goats and what inspired the name?
Morgan: James, Aaron, and I started Funicular Goats in 2019, doing multi-camera projects for Apple and Disney, but our relationship goes way back. James and I worked together at another company on smaller, cinematic 6-10 camera-type productions for many years and honed our craft. Over time, we wanted to try things differently, and bring our cinematic experience to the live event world. Then we met Aaron as a client. We became friends and decided to launch our own business. The name for the company came from a children's book. Initially we laughed it off, but then realized "funicular" describes what we do; our work centers on connecting and moving signals around, so it stuck, and here we are. The pandemic hit shortly after launch, and we shifted gears to more streaming work. Not too far into it, we resumed production on comedy specials, which kept us going, because they're easy to produce safely.
Aaron: I met James and Morgan as a producer looking for multi-cinematic solutions in live variety television. I wanted to integrate cinema cameras into my work, and realized how ahead of the game they were. After collaborating, I liked their workflows and personalities, so we started Funicular Goats. We knew there was a real need for the expertise we had to offer. 
How did the pandemic influence Funicular Goat's work?
James: We were doing remote work – like American Spring Live and Yellowstone Live as well as the Democratic National Convention – before the pandemic made it a necessity; those productions were almost all Remote Integration Model (REMI). We also helped with the 72nd Emmy Awards production, a lot of which was done using Zoom. Having that solid REMI foundation really helped get us through the pandemic. Physical productions aside, we also prepped and sent out REMI kits to client's homes, up to 28 at a time. Demand for REMI has since slowed; most work today requires us to be physically present.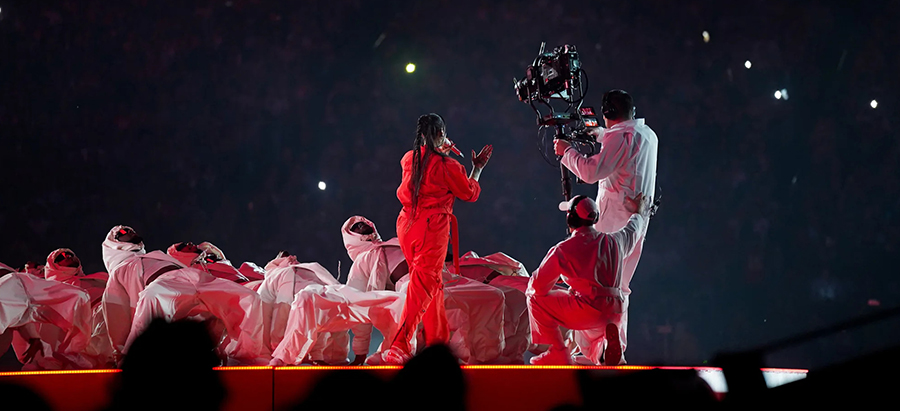 What kind of projects do you work on and what's the average camera count?
James: We've done productions like the Elton John concert at Dodger Stadium, "The Weeknd: Live at SoFi Stadium" for HBO Max, as well as comedy specials; live recordings and traditional broadcast projects are also a regular part of our project slate. We're also typically involved in the big game halftime show each February. Projects average 10-20 cameras per show but we've also done projects involving more than 30 cameras.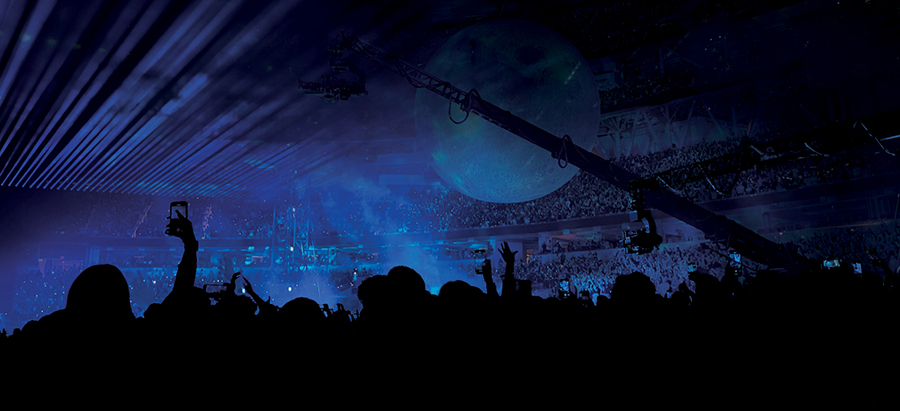 Describe your workflow for an event like the halftime show.
James: We captured 29.97p from Sony VENICE 2 cameras, which was sent to our production truck and into our router. The feeds hit our distribution amplifiers first, and then were sent into an AJA KUMO 3232 12G router and our AJA FS-HDRs. They've become a key part of our workflow; we own about 12 FS-HDRs, but last year for the halftime show, we had 28 on-site. FS-HDRs allow the DIT crew to work with the log and HDR feeds and bounce them back and forth. We also use it for frame syncing, to lock all our feeds with the main program audio. This all went into the KUMO router in our truck and then into the switcher and out for broadcast distribution.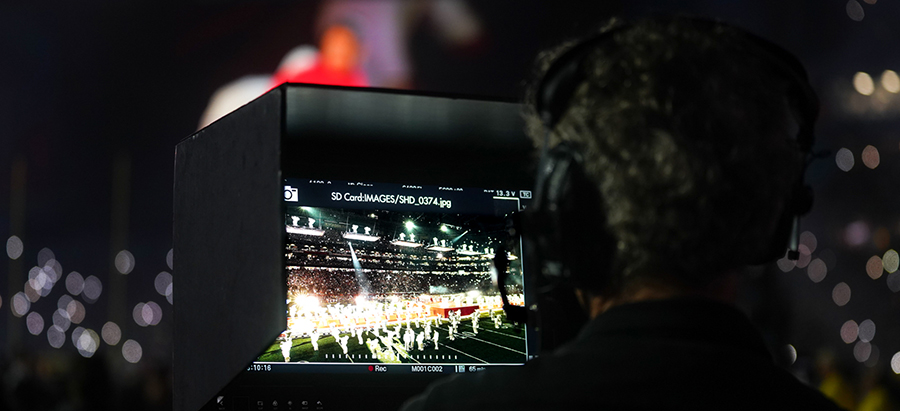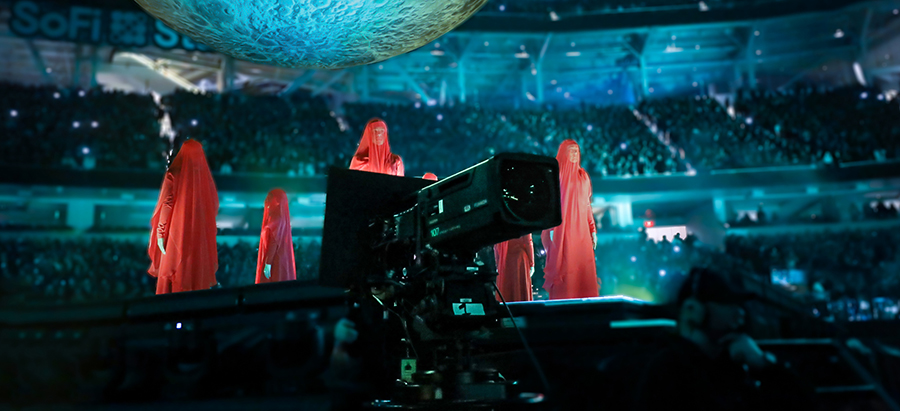 How do you typically record event productions like this?
Morgan: Most of our 4K recordings are done with a cinema camera, and we do a 1080 workflow out for a reference line. Occasionally, we do a 6G-SDI or 12G-SDI workflow. We also own some AJA Ki Pro Ultra 12G ProRes and DNx recorders and record a lot of projects with them. It makes it easy to have edit ready files that we can have our downloader dump onto a drive to be shared with production. 
What does your typical Ki Pro Ultra 12G setup look like?
James: The application depends on the project, but we love our Ki Pro Ultra 12Gs because they're so flexible. I use them on almost every show. If I'm recording from a camera,  I'll use it as a quad recorder for four 1080 feeds, which is super helpful. I might use it for backup 1080 recordings, ISOs of the cameras, or to create multiple copies of a program or multiple views. Sometimes I'll do 6G-SDI or 12G-SDI into the Ki Pro Ultra 12G. I also use the Ki Pro GO from time to time, so I can hand off thumb drives with H.264 recordings right after the event.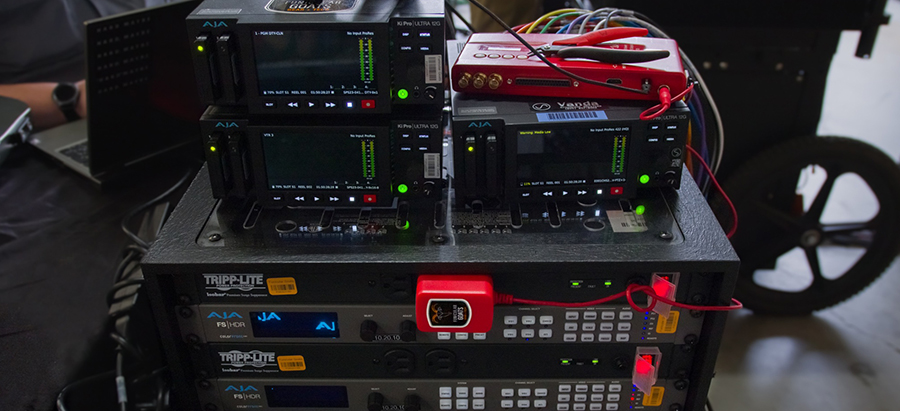 Aaron: We record in-camera log and have the raw 4K footage, but we also have the flexibility to record 1080 on our Ki Pros. If we're delivering a 1080 project, we'll record the loaded or color corrected 1080 files to the Ki Pros, so we have a master finish of the project, but can refer back to the 4K log footage if needed for post work. If footage is already color corrected, we can essentially do an online cleanup with those files or edit with them as well. It gives us a lot of options and it's a cost-effective way for us to record in different flavors.
Morgan: Some producers require redundant recording, so sometimes, we'll have 10 Ki Pro Ultras and still record in camera. We own a lot of other AJA products too, from the 12GDA and Hi5 Mini-Converters, throw down distribution amplifiers (DAs), and FS2 frame syncs. We keep AJA products in our inventory and use them on every show because they've got such a great track record of being reliable. 
How do you work with clients?
James: A producer from a streaming platform might reach out to Morgan and me directly, but we're also brought in by tech managers, directors, and DPs. On projects, we work directly with the producers to plan the multi-camera workflow and go on scouts. We provide a well-thought-out workflow design and all the encompassing tech to make all the pieces fit together – whether comms, the engineering fly pack, cameras, wireless systems for the cameras, transmission (digital, broadcast, or satellite) fiber infrastructure, or monitoring needs on-set. When needed, we also bring a lot of the cameras into each show. We can build out the technical ecosystem for an entire production soup to nuts. It's where the company shines. 
Every job, however, is different and each company has its own unique relationships with their own vendors. Sometimes, we may work with an existing team to ensure they get the most out of their technology. Others, clients may need more help, and we have great relationships with crew, so we'll bring on engineers, techs, utilities, and camera assistants we've hand-selected – people who really understand the multi-camera workflow– when a project calls for it. 
Aaron: We're unique in that we get embedded in our work and collaborate with the production team from beginning to end. We have a cinematic multi-camera workflow – whether fiber or RF – that we use as a starting point; it involves all the standard tech for moving signals throughout the chain and live grading. But every project requires managing different elements and workflow refinement, so we work closely with the producers to figure that out. 90% of the time live grading is part of the project, which means FS-HDRs are on set; we rely heavily on them for live color grading and frame sync during most shows.
Morgan: Productions are often looking for ways to execute their projects but aren't certain how to do it, so they lean on us. We advise them on execution and help them achieve the look they're aiming for in the most efficient way. We have a comfortable history of doing certain shows in certain ways, so we'll lean into that, but we also figure out how to modify the workflow and our fly packs and fiber systems to suit each client's specific needs. Our fly packs are portable, modular systems, but all the components are built into breakdown racks, so we can swap out the gear as needed. We often use a specific set of tools as a base, including FS-HDR, and then develop a custom configuration to suit the demands of each job. 
How are you working with HDR and what aspects of your workflow design does FS-HDR support?
Aaron: While we're largely delivering in SDR, HDR is becoming a more common request, especially for broadcast events like the halftime show and on set for concert productions. FS-HDR has become a key part of our workflow for productions involving HDR, as it has redundant power and I know it will do what it needs to do; it also has great features for everything from embedding to frame syncing and live grading. 
James: We're doing a lot of live grading with the FS-HDR. We could use an RCP camera control talking directly to our cinema camera, but we don't get the full range of RGB. If I take a log feed, however, and run it through the FS-HDR, I get a better range of RGB, so I can build a better look than with RCP alone. We also use FS-HDR for conversion. If I'm bringing back a 12G-SDI or 6G-SDI feed from a cinema camera, I might need to step that down to 1080 for viewing, as well as for coloring and recording. Then there are frame rate conversion requirements, when we're going from 24p to a broadcast standard for a truck workflow. We might bring back a log feed 23.98p that will hit our distribution amplifier (DA) and into a switch where we cut 23p. Out of the DA, that feed might go to the FS-HDR, where we can then go 29.9p and elsewhere with it to a line cut and cut 29.97p for broadcast.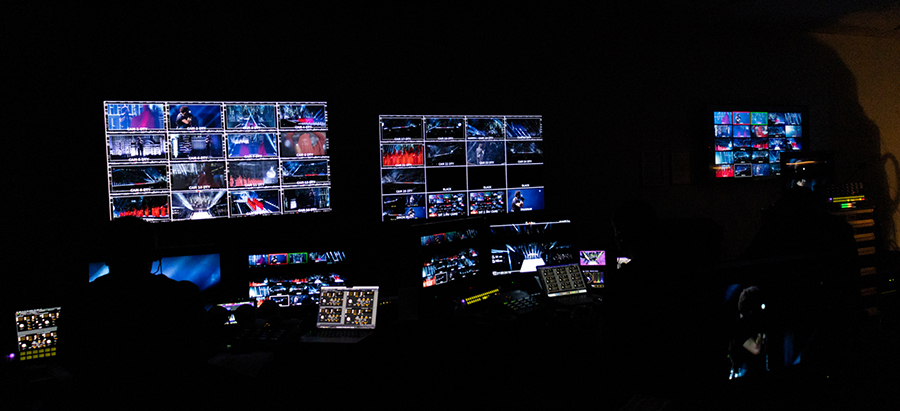 What do you love most about your job?
Morgan: I love owning a company and the decision-making that comes along with it. It's exciting because we can do what we want. Working with like-minded friends who you can bounce ideas off also makes it fun to go into work every day. 
James: I love the challenge of being innovative, and always thinking about better ways to do things. I like building a great team to work with and that feeling of accomplishment once a project wraps. We handpick every team member and it's made for a unique energy. 
Aaron: It's all the above. I get to work with friends and create a warm, inviting environment where we can be creative and technical. I also love the R&D aspect of the job, where we get to test new products and uncover their potential. We come up with innovative ways of using new equipment as it comes out, and our work ultimately shines through in the look and feel of every project. What's exciting to me is that we're really influencing the way that these projects look. 
What advice would you offer to others entering your field?
Aaron: Identify and pursue your passion, and never stop learning. Technologies and techniques change rapidly, so if you don't you might fall behind. Every project should be seen as a new opportunity to do things differently versus sticking to the same thing because it worked. Staying relevant means staying on top of industry innovations and being willing to push the boundaries of innovation. 
Morgan: Do what excites you. James, Aaron, and I all got into this business because we're passionate about it. I loved film and went to film school, wanting to become a filmmaker. I stayed the course, but also stumbled into the live event space, where I saw new opportunity to bring what I'd learned from cinema into the space. Also, take chances, take risks. Some will pay off and others won't, but if you never experiment, your productions will become stale, and you might miss out on something really great. 
About AJA Video Systems                                                                                                               
Since 1993, AJA Video Systems has been a leading manufacturer of video interface technologies, converters, digital video recording solutions and professional cameras, bringing high quality, cost effective products to the professional broadcast, video and post production markets. AJA products are designed and manufactured at our facilities in Grass Valley, California, and sold through an extensive sales channel of resellers and systems integrators around the world. For further information, please see our website at www.aja.com.
Images courtesy of Funicular Goats, including shots by Brianna Resuta.
All trademarks and copyrights are property of their respective owners.