MITOMO STUDIO SHIBUYA Upgrades 8K Editorial Review Suite with AJA KUMO 3232-12G and SKAARHOJ Rack Fly Duo
April 21, 2021
Mitomo is a leading Japanese broadcast equipment and service provider, and since 1980, its post-production arm has specialized in planning and production for film, TV news, documentary, live event and corporate content. In 2015, the post-production arm was relocated, expanded and reestablished as MITOMO STUDIO SHIBUYA to meet a continuing surge in demand for 8K content. To further manage simultaneous post and delivery of 2K, 4K and 8K HDR productions, a new state-of-the-art 8K editorial review suite was introduced in March 2020, featuring AJA KUMO 3232-12G to centralize 8K routing operations and SKAARHOJ Rack Fly Duo to simplify remote router control.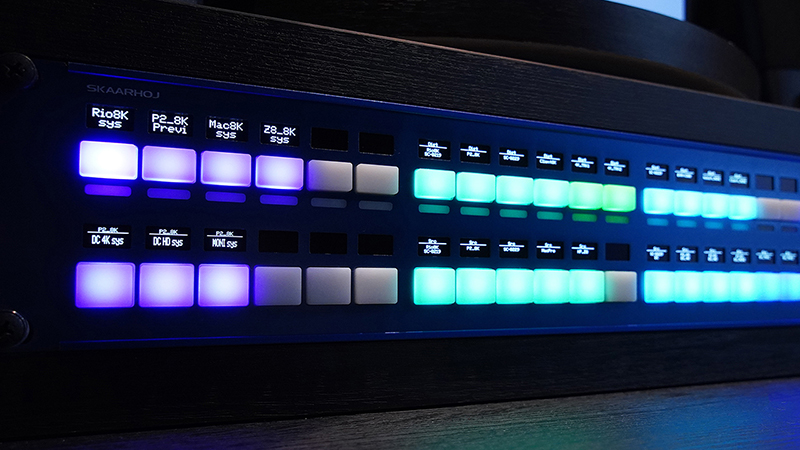 A pair of KUMO 3232-12G compact 32x32 12G-SDI routers were integrated into MITOMO STUDIO SHIBUYA's upgraded production system to enable intuitive and simple routing of 8K sources, using 12G-SDI connectivity to streamline transport of high bandwidth signals with single-cable simplicity. The KUMO 3232-12G routers manage 8K, 4K and 2K HDR signals from multiple sources simultaneously, with routing and salvo features controlled remotely by SKAARHOJ's Rack Fly Duo multi-purpose, universal, broadcast control panel. Rack Fly Duo bundles operations of the two KUMO 3232-12G devices, enabling editors and colorists to control both as if working with a single router. Rack Fly Duo features custom programming and when paired with KUMO 3232-12G, the new system enables post staff to instantly preview 8K content or compare HDR and SDR footage. 
"Pairing KUMO 3232-12G with Rack Fly Duo meets the rigorous workflow demands of our editors, providing custom control and flexibility for the most challenging projects," shared Susumu Yamazaki, Online Editor, Mitomo.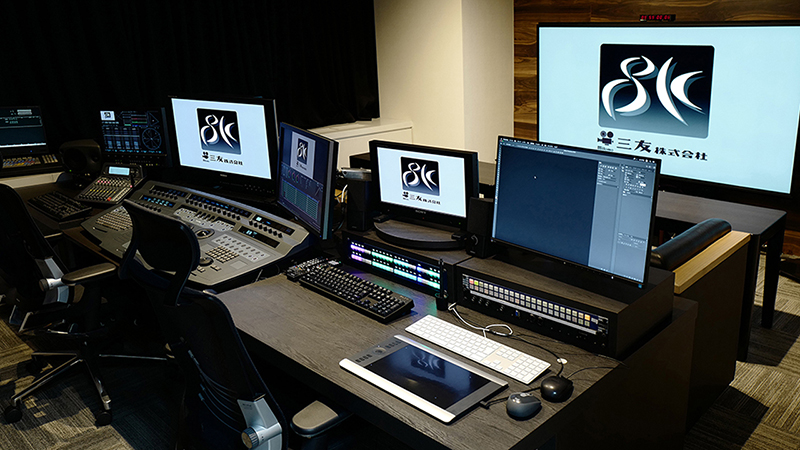 Within the new 8K editorial suite, post staff rely upon Grass Valley Rio as their main creative application for 8K online editing, coloring and finishing, with four Corvid 88 high-density I/O cards for streamlined monitoring and output of high-bandwidth content. The suite features 8K Sony monitors for review and client previews, as well as Apple Mac Pro and HP Z8 G4 workstations for offline editing with Avid® Media Composer® and Adobe® Premiere®Pro and online color grading. 
AJA's robust, portable and production-proven lineup of converters are used throughout all of MITOMO STUDIO SHIBUYA's editorial rooms, including five 4K/UltraHD/2K/HD editorial studios and two mastering rooms, in addition to the upgraded 8K suite. During review sessions and client previews, AJA's Hi5-4K-Plus Mini-Converter for 3G-SDI to HDMI 2.0 conversion and AJA 4K2HD Mini-Converter for 4K/UltraHD to HD-SDI and HDMI down-conversion are used for transferring signals to 4K or 2K monitors. AJA's 3G-AM 3G-SDI 8-channel AES embedder/disembedder Mini-Converter is also used for converting project output to audio mixers.
Yamazaki concluded, "AJA products are the basis of our entire production system, because they provide us with trusted reliability, high-quality performance and the stability required to handle the most challenging project demands with zero downtime."
About KUMO 3232-12G
KUMO 3232-12G offers increased capacity for larger configurations while maintaining a compact 2RU profile with support for 12G-SDI/6G-SDI/3G-SDI/1.5G-SDI with 32x 12G-SDI inputs and 32x 12G-SDI outputs. KUMO 12G-SDI routers support large format resolutions, high frame rate (HFR) and deep color formats, while reducing cable runs when transporting 4K/UltraHD over SDI. Ganged ports offer the ability to route up to 8K signals. The routers offer network-based and/or physical control, with a USB port for initially configuring IP addresses via AJA's eMini-Setup software. www.aja.com/products/kumo-3232-12g
About AJA
Since 1993, AJA Video has been a leading manufacturer of video interface technologies, converters, digital video recording solutions and professional cameras, bringing high quality, cost effective products to the professional broadcast, video and postproduction markets. AJA products are designed and manufactured at our facilities in Grass Valley, California, and sold through an extensive sales channel of resellers and systems integrators around the world. For further information, please see our website at www.aja.com.
All trademarks and copyrights are the property of their respective owners.
Products Used
KUMO 3232-12G