Freelance Sound Re-Recording Mixer Mike Aiton Relies on AJA Gear for Video and Remote Workflows
March 24, 2021
As a seasoned freelance sound mixer with more than 30 years of experience, Mike Aiton has worked on a diverse range of projects spanning film, TV, and proAV. In addition to mixing and sound designing for Mikerophonics clients in his London studio, Mike also works remotely as a Solutions Architect on the Solutions Team for Source Elements, the leading real-time remote audio and video collaboration solutions provider. In both roles, he relies on gear from AJA Video Systems. When building remote collaboration workflows, he uses and recommends an AJA U-TAP SDI USB 3.0 capture device, and for independent sound to picture mixing projects, he'll harness either an AJA T-TAP Thunderbolt™- powered SDI and HDMI output device or an AJA Io XT Thunderbolt-powered video and audio I/O box.
"One lesson I've learned during COVID is that any emotional stress caused by unreliable gear can prove costly to the overall experience of all participants, which is why I love using and recommending AJA," Mike explained. "AJA gear is simple to set up and configure and performs without fail. You simply plug it in, install the latest software updates, and you're working; there's no 'driver roulette' like with some other tools. In the case of U-TAP, it's not only bus powered, but class compliant on Mac OS and Windows PCs, so there are no drivers at all."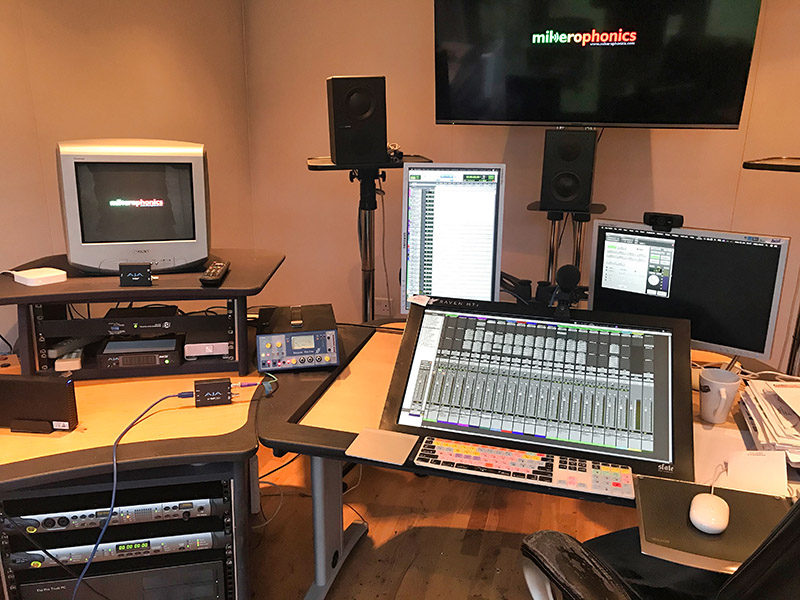 To facilitate a remote mix and approval collaboration session, whether working with the director or a larger team, Mike typically outputs a referenced Avid® Pro Tools® Video Engine feed from his Io XT to a large display in his mixing studio using HDMI. He also sends the same feed via SDI (from a separate output on the Io XT) into an AJA U-TAP SDI to re-capture the feed and send it via USB 3.0 to a computer running Source Elements Source-Live Pro: Low Latency software. With this setup, the director, editors, or team members can see and hear Mike's work to picture in high quality with digital genlocked frame accuracy in full 1080 HD at up to 60fps, and in virtually real-time. The low latency that the setup provides makes it easy to involve the director in all of the important conversations live, and with a video chat window, everyone participating can comment on the mix with the utmost precision, without any lag in audio or video sync.
"Source-Live Pro and U-TAP are a winning combination, as there is no computer CPU or GPU overhead from trying to capture screens or windows. Together, they allow me to reach out to the virtual global village of creative collaborators with an experience that largely mirrors the real world; my studio is extended out to them, and they can come into my studio from afar to collaborate interactively," Mike noted. "U-TAP plays a huge role in enabling the workflow, and I love that it doesn't tie me down to a specific Mac or PC. Everything has USB 3.0 these days, so I can just plug U-TAP in, and it's recognized as a legitimate picture source. I can then easily capture a Pro Tools video engine stream, perfectly digitally in sync, via a BNC connector into a USB 3.0 capable computer."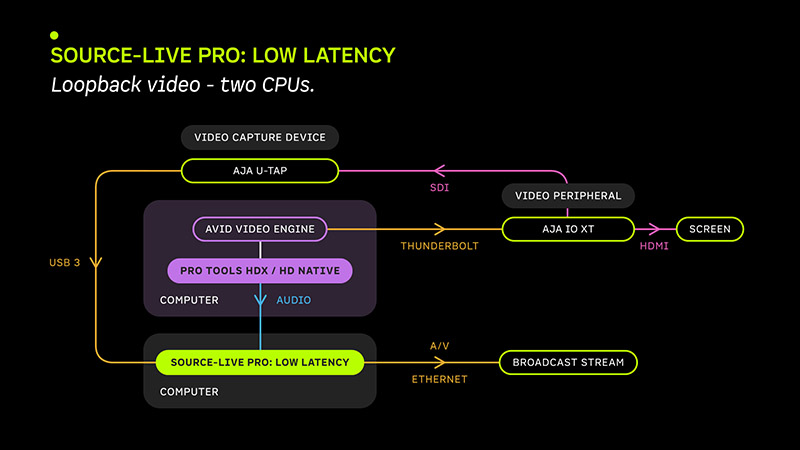 Mike recently used this workflow for a project for Source Elements' presentation at the AES (Audio Engineering Society) conference. Using his AJA U-TAP with Source-Live Pro: Low Latency, he helped fuse a 5.1 classical music recording in Chicago, IL of the Synchron Stage Orchestra in Vienna with animated graphics and voice-over performed in Melbourne, Australia. Spread between seven cities worldwide, the creative team managing the project was able to access the visuals, the "conductor-cam," and a live symphony stream in stereo, all via Source-Live Pro:Low latency. 
They all ran the session together, allowing the director to ask the conductor to make adjustments in real-time, such as slowing down a bar to better match the visuals or changing the beaters of the tympanies to leave some bass frequencies free for the voice over. For the voice recording, Mike was able to control the remote voiceover's picture in Melbourne using Source Elements' Source-Connect RTL (Remote Time Line) solution, and simultaneously transmit the picture, the voice over, and the music mix to a studio in Chicago for approval. AJA U-TAP SDI captured the Pro Tools video engine output from his Io XT, and the output was then ingested into Source-Live Pro: Low Latency for broadcast to Chicago in virtually real time.
"In these sort of remote collaboration environments, you have no control over the device with which people are watching the feed, so it's crucial to avoid any unnecessary video degradation, and I love that about my AJA gear. I can always be confident that it's not doing anything to degrade the signal quality. It's in sync, frame accurate, easy to use, and it just works," Mike concluded.  
About AJA U-TAP 
AJA U-TAP devices are 3G-SDI or HDMI USB 3.0 capture solutions that bring professional connectivity and high quality video capture to laptops and workstations. A bus-powered device with the ability to simply and easily bring in video across 3G-SDI or HDMI for use within a wide range of software without any drivers to install, U-TAP is supported directly in macOS®, Windows® and Linux®. www.aja.com/products/u-tap-sdi and www.aja.com/products/u-tap-hdmi
About T-TAP Pro
T-TAP Pro is the newest generation of AJA's proven T-TAP device, featuring the latest 12G-SDI and HDMI 2.0 connectivity for working with up to 4K or UltraHD 60p video over a single cable. It allows for easy output of deep color, high frame rate, SDR and HDR video to a wide range of pro and consumer monitors and devices, all at the highest 10- and 12-bit quality. T-TAP Pro is a compact, silent device that delivers next generation mobile monitoring capabilities to any supported Thunderbolt™ 3 enabled system. www.aja.com/products/t-tap-pro
About AJA Video Systems, Inc.
Since 1993, AJA Video has been a leading manufacturer of video interface technologies, converters, digital video recording solutions and professional cameras, bringing high-quality, cost-effective products to the professional, broadcast and post-production markets. AJA products are designed and manufactured at our facilities in Grass Valley, California, and sold through an extensive sales channel of resellers and systems integrators around the world. For further information, please see our website at www.aja.com.
All trademarks and copyrights are the property of their respective owners.
Products Used
T-TAP®

U-TAP SDI