Pakistan's Hum Network on Delivering High Quality Content to Global Audiences
November 2, 2023
Hum Network, Ltd. is a 24-hour global Urdu entertainment and news network that provides a diverse array of quality programming to South Asians around the world. We had the pleasure of chatting with Hum Network Assistant Vice President Muhammad Tariq about some of the network's latest projects and how it's adopted technologies like AJA BRIDGE LIVE to achieve secure, low latency channel delivery over public networks and more. 
Tell us about Hum Network.
Hum Network Ltd. is headquartered in Islamabad, Pakistan, and stands as a substantial and influential organization in the media and entertainment industry. It was founded by Sultana Siddiqui and Duraid Qureshi and originally operated under the name Eye Television Network Limited before changing names in 2011. The company employs more than 1,500 team members and proudly holds the distinction of being the first publicly listed Pakistani television network on the Pakistan Stock Exchange.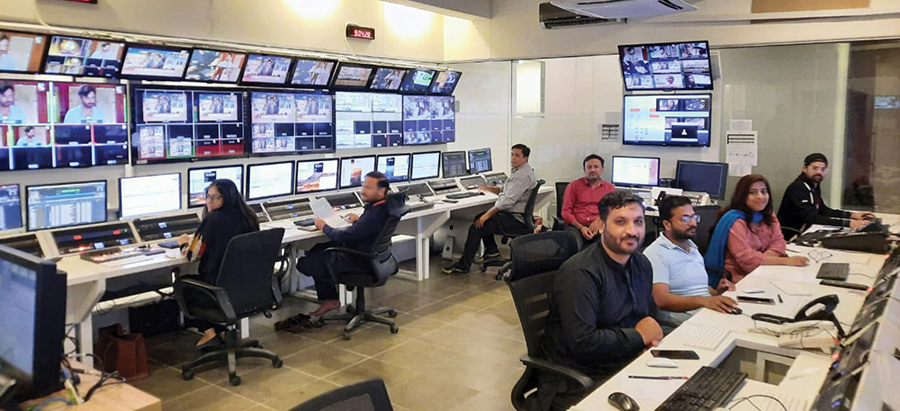 Describe your role and an average day at work.
I oversee all matters related to broadcast engineering at Hum Network, including MCR (master control room), PCR (production control room), broadcast IT, digital archive, studios, satellite uplink/downlink, live transmissions, remote station connectivity, and the distribution of satellite and IP-based channels via IPTV, utilizing modern protocols like HLS, SRT, and more. A typical workday involves managing these areas to ensure the smooth operation of our broadcast services.
What has your team been up to in the last year? 
We've undertaken three major projects, with the goal of advancing our broadcast capabilities worldwide. One of the most important projects to date involved the relocation of our entire office, including technical facilities, from one city to another. The transition had to occur without a single black frame or error in national and international transmissions and encompassed multiple channels, such as MCR (master control room), CAR (central apparatus room), archive, live ingest, studio, MCPC (multiple channels per carrier network technology), IP channel infrastructure, and more. 
The second project involved the delivery of our content channels via an IP-based system to three different regions in Europe, with separate commercial break triggers using SCTE104/35 conversion. Finally, we also worked to establish direct point-to-point connections to deliver our content channels across various regions, whereas before, channel delivery relied on a CDN (content delivery network), incurring distribution fees. To achieve our desired outcome, we needed reliable and cost-effective IP encoders supporting the latest protocols for low-latency, secure, and reliable transmission over public networks.
Tell us more about the technology you've deployed to achieve your goals. 
Our pipeline encompasses studios and PCRs equipped with professional broadcast cameras, production switchers, a virtual set, and recording devices, all configured to record in the Apple ProRes HQ/LT format. We also have editing and post production facilities with multiple editing, real-time graphics, motion graphics, and title systems. For MCR playouts, we rely on TOA (Tools on Air) Apple-based systems, with multiple MCR switchers, all managed seamlessly with Promise NAS (network attached storage).
4K content is acquired in our Karachi facilities via HDD (hard disk drives) or our LAN (local area network) using an FTP client, uploaded to a server, routed, then delivered via MultiNet at 50 Mbps CIR or via PTCL at 100 Mbps to our Islamabad facility. There, it's received via MultiNet at 50 Mbps CIR or NAYATEL at 100 Mbps CIR and routed to another FTP server. Content is then encoded/decoded/transcoded by an AJA BRIDGE LIVE that feeds our DAS (direct attached storage) controller. That content is then encoded/decoded/transcoded by another BRIDGE LIVE unit and is available to our creative and international editing departments, interactive department, and MCR playout systems -- each of which harnesses additional BRIDGE LIVE units.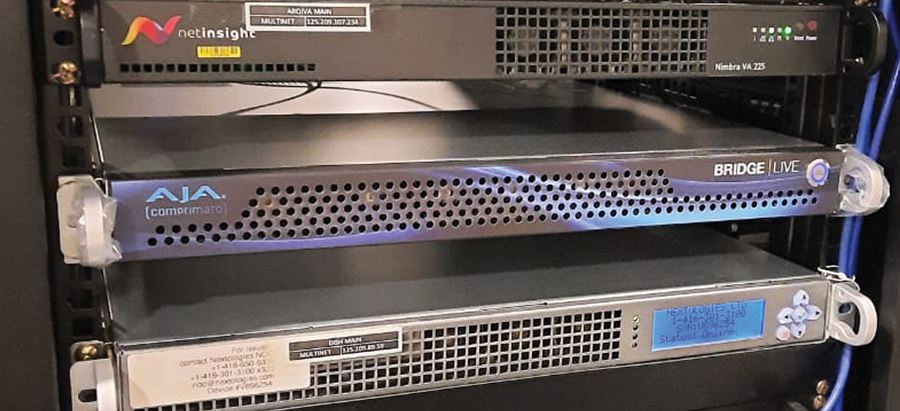 How did you learn about BRIDGE LIVE, and what made it a good fit for your operations? 
When deciding to move away from a CDN (content delivery network), we evaluated top-of-the-line encoders and ultimately chose BRIDGE LIVE. It was fully equipped with the latest protocols and offered remarkable cost-efficiency. It turned out to be the right choice and instrumental to our work, as it's given us the low latency and security we need for channel delivery over public networks.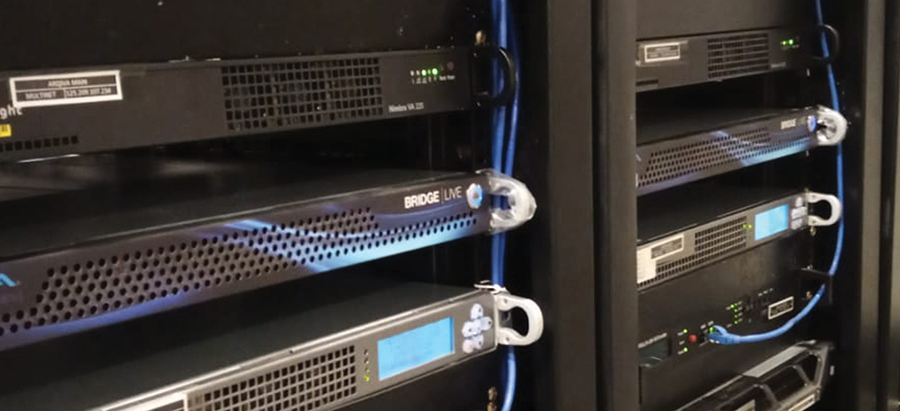 The multichannel SRT with SCTE-35/104 support in AJA BRIDGE LIVE, for instance, plays a pivotal role in our broadcasting operations. It empowers us to deliver multiple channels over the same network infrastructure, streamline commercial break triggering with precision, reduce costs, and ensure compliance with industry standards. These capabilities help us significantly enhance the viewer experience by providing seamless transitions between programming and commercials.
The fact that we were already familiar with AJA also played a role in the decision to invest in BRIDGE LIVE; we use several other AJA products, including KUMO routers, Mini-Converters, HELO, Io X3, Io 4K Plus, and the Ki Pro family of recorders, and continue to invest in AJA gear because of its unwavering reliability and top-notch performance. It helps significantly reduce the risk of downtime and the associated costs. 
For example, AJA KUMO SDI routers are not only easy to install and ensure seamless signal routing, but they also help prevent signal disruptions during live broadcasts, which can be quite costly to rectify. Furthermore, AJA Mini-Converters have proven to be highly efficient in format conversion, negating the need for multiple pieces of equipment and simplifying our workflow. AJA's Ki Pro recorders also make recording easy and ultimately save us valuable time in post. The synergy of reliability, performance, and versatility offered by AJA equipment consistently contributes to operational efficiency and cost-effectiveness across our facility. 
AJA support is also exceptionally helpful and diligently follows up on any issues until they are resolved. It's this winning combination that makes AJA gear an integral part of our success story.
About AJA Video Systems                                                                                                              
Since 1993, AJA Video Systems has been a leading manufacturer of video interface technologies, converters, digital video recording solutions and professional cameras, bringing high quality, cost effective products to the professional broadcast, video and post production markets. AJA products are designed and manufactured at our facilities in Grass Valley, California, and sold through an extensive sales channel of resellers and systems integrators around the world. For further information, please see our website at www.aja.com.
All trademarks and copyrights are property of their respective owners. 
Media Contact:
Katie Weinberg
Raz Public Relations, LLC 
310-450-1482, aja@razpr.com