AVC Systems Switzerland on Digital Glue in Live Production
October 19, 2023
From TV to live and corporate events, broadcasters, venues, and businesses continue to chase the latest and greatest audience engagement strategies, which has given rise to an era of visually impressive experiences. AVC Systems Switzerland Sales Manager Etienne Ritschard specializes in helping companies bring these visual feats to life, designing the workflows, and procuring and installing the necessary gear to support them. While cameras and LED displays are standard across most installs, Etienne, in a recent chat with AJA, underscored the importance of the less visible "digital glue" in transforming ideas into realities.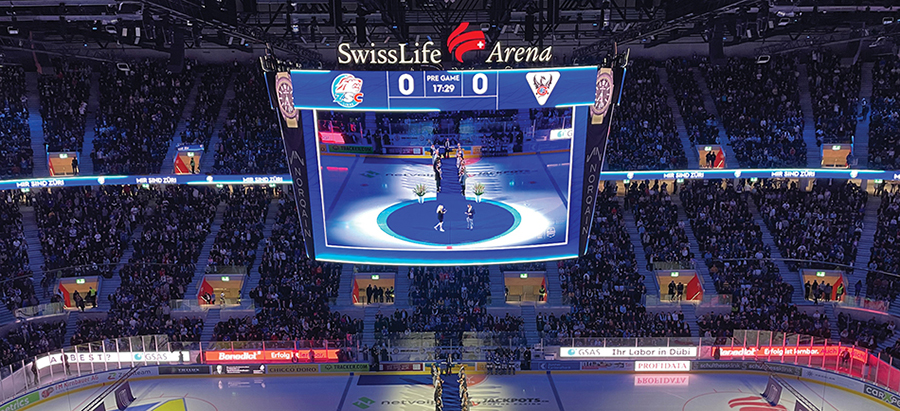 Tell us more about AVC Systems Switzerland.
AVC started out 26 years ago building broadcast TV studios and has since expanded to cover sports venue AV as well­; we supplied a range of technical gear to an ice hockey arena earlier this year. We're also a distributor, so we supply several resellers in Switzerland with equipment. We offer everything from client consulting to gear sourcing and installation, and ongoing support. Our mission is to make happy customers for life. 
Describe the gear your typical installs require.
For broadcast clients, we usually install the full portfolio of gear you'd need to run a TV studio, from Mini-Converters to ProRes recorders and routers. When working with clients, we find they often already have quite a bit of legacy 3G-SDI gear installed but also want to make use of the benefits of 12G-SDI, so we find ourselves using quite a bit of AJA openGear conversion kit like the OG-12GM 12G-SDI/SDI muxing/demuxer, which lets us bring 3G-SDI  technology into the single-link 12G-SDI world and vice versa. 
For example, for the ice hockey project I mentioned, we had to get signals from a graphics system to the venue video cube. Using the AJA OG-12GM, we were able to bring in one UHD signal and separate it into four so we could supply a signal to each side of the cube. In general, we've been using more openGear technologies across the board because they tend to have a much smaller space for housing gear and also leverage the AJA OG-DANTE-12GAM for 12G-SDI/Dante embedding/disembedding from time to time. Routing is also a key part of our installs, and we like to use AJA KUMO routers when possible.  
Many of our reseller partners also work with corporate entities and conferences that want to produce presentations, internal workshops, all-hand meetings, and more. For this, they rely on AJA digital video recorders like AJA Ki Pro Ultra 12G and Ki Pro GO. If heavy editing is involved, they'll usually opt for the Ultra to record in Apple ProRes, but if they're just looking for a quick MP4 file to hand off to others, they'll go with Ki Pro GO.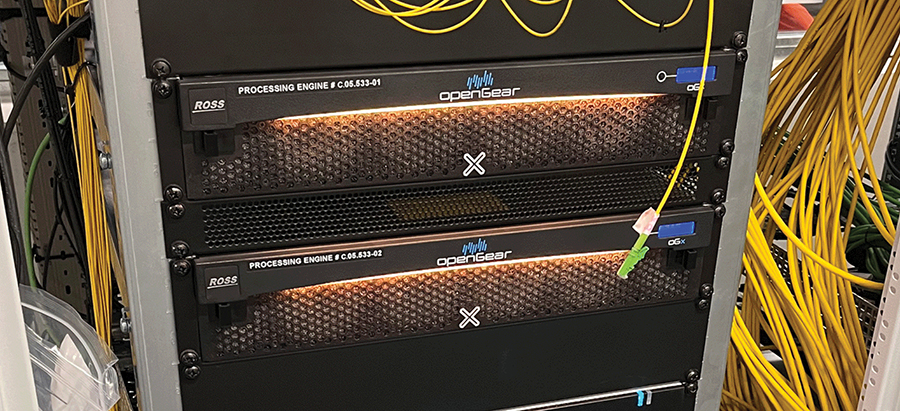 Why is openGear technology well suited for your work? 
Many of our customers already have openGear frames, and it's nice to be able to place additional cards into a properly mounted frame to meet their unique conversion needs so our clients don't have standalone converters lying around everywhere in a facility. They can also control all the openGear cards through one user interface because Ross and vendors like AJA have collaborated to ensure openGear frame compatibility and support for Ross Dashboard software to control the devices. 
Tell us more about the ice hockey arena project you mentioned earlier. 
Swiss Life Arena is an ice hockey venue located in Zurich, Switzerland, and they approached us looking for a turnkey graphics and signal distribution solution. They needed to get all their signals to a central LED cube and other LED displays throughout the arena, which we knew would require a vision mixer, graphics system, and, as we like to call it, "glue gear," our AJA openGear conversion technology. We worked with their team to plan the entire setup, from diagrams to delivering and installing the technology. The AJA OG-12GM was a core component of the design because it supplies the signal from the graphic system to the cube; if it were to fail, the LED cube would go black. Fortunately, we chose these cards because they're so reliable, and we knew we could trust them. 
Please describe the workflow in more detail. 
We designed the live production pipeline to support static cameras and those brought into the venue from OB providers; all camera feeds are sent through a hybrid router. The workflow also includes openGear distribution amplifiers and AJA OG-ROI-HDMI scan converters, which make it possible for the venue AV team to bring computer sources into the 3G-SDI world for display on the cube if needed. Many of the signals from the graphics system also go through the router to AJA openGear AJA Hi5-4K-Plus converters; this install included five of them, which serve the purpose of converting 3G-SDI back to HDMI for in-stadium digital signage needs. An openGear frame with four AJA OG-12GMs was also included in the design to support conversion of quad 3G-SDI signals into a single 12G-SDI signal. 
What trends are you following? 
More of our clients are exploring augmented and extended reality, and investing in LED walls, so naturally, we're looking at these emerging technology areas as well. LED walls provide an easier way to do multiple shows, each with a unique set and look, from one central environment; studios and venues only have to switch up the graphics and creative, versus dressing entire sets frequently. For these installs, we often need a way to convert signals coming from the graphics system to the LED wall controller, so we use a lot of AJA Hi5-4K-Plus and OG-Hi5-4K-Plus 3G-SDI to HDMI 2.0 converters. We just wrapped up a project for a national TV studio with about 100 square meters of LED space, and we used quite a bit of both in the install. 
Based on your experience, what advice would you have for others getting into your profession?
When sourcing gear, focusing on quality above all will prevent a lot of headaches. 
About AJA openGear Solutions
For critical broadcast and IP applications, AJA openGear compatible converter cards provide the highest levels of quality and reliability for use in openGear frames including the AJA OG-X-FR. AJA offers cards for video and audio over IP, infrastructure, HDMI/SDI conversion, scan conversion, Fiber conversion and scaling. All AJA openGear cards are Ross DashBoard software compatible, allowing easy configuration and control. An open architecture modular frame system, openGear is supported by a diverse range of equipment manufacturers. The platform offers the freedom to choose technology from a wide range of products to meet the needs of broadcast, production, live events, or distribution. https://www.aja.com/family/opengear
About AJA Video Systems 
Since 1993, AJA Video Systems has been a leading manufacturer of video interface technologies, converters, digital video recording solutions and professional cameras, bringing high quality, cost effective products to the professional broadcast, video and post production markets. AJA products are designed and manufactured at our facilities in Grass Valley, California, and sold through an extensive sales channel of resellers and systems integrators around the world. For further information, please see our website at www.aja.com.
All trademarks and copyrights are property of their respective owners. 
Media Contact:
Katie Weinberg
Raz Public Relations, LLC 
310-450-1482, aja@razpr.com