VStream Media Covers the Importance of Stability in Remote Live Event Production
February 6, 2023
Singapore-based VStream Media delivers high quality AV for live events like the Singapore Airshow, Google Cloud Next, and the 50th anniversary Chingay parade, an iconic local festivity celebrating costume and masquerade art. The company provides technical planning, workflow design, and on-site training for every event. While each workflow is bespoke, AVoIP technology and AJA gear are almost always part of the design. VStream Media Co-founder and Managing Director Adarsh Mohan recently sat down with us to talk about the company's approach to live production and how they are using the AJA Ki Pro GO multi-channel H.264 recorder to streamline productions. 
Tell us more about VStreams origins and your role with the company today.
Ang Ming Song and I co-founded VStream Media in 2019. He had a background in telecom-engineering and, at the time, I had more than 15 years of experience in live AV and production. We started the company with a vision to maximize the use of technologies to create forward-thinking processes and solutions for clients in the live events space. As a technical director and network engineer, I bridge the gap between creativity and technicality.  Ang combines his innate understanding of technology and media with comprehensive experience in video production to ensure our clients receive high quality caliber production they've come to expect. 
Which technologies do you find most valuable in your work? 
We first focused on using PTZ cameras and NDI for our productions. Our interest in pushing the boundaries of optical and remote technologies largely drove this decision. PTZ cameras help us achieve our desired storytelling aesthetic with automation and remote control. Our dedicated internal research and development (R&D) team also works alongside our operations team to explore and push technological possibilities. We then implement that work into real-world scenarios to take productions to the next level.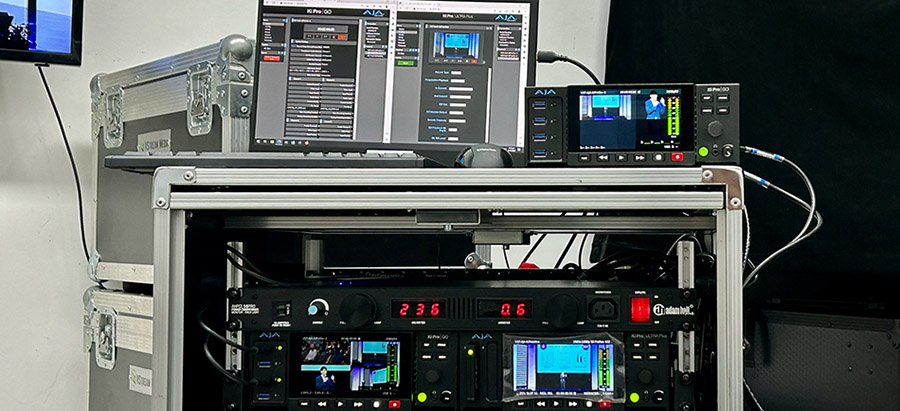 What is your go-to kit? 
We frequently use PTZ cameras and an internally developed multi-video broadcasting platform. We also rely on tools like AJA Ki Pro GO, the AJA KONA 4 I/O card with a breakout box and other AJA Desktop I/O Solutions, AJA U-TAP SDI and HDMI USB 3.0 capture devices, and our AJA FiDO-2T-12G two-channel 12G-SDI to fiber transmitter. Along with providing live production services and workflow design, we offer systems integration, so we have distribution partnerships with several technology vendors.
Describe your workflow in more detail. 
For most live event productions, remote speakers call in via a video conferencing platform using a webcam at 720 or 1080p. Multiple SDI feeds are then run through the AJA Ki Pro GOs and recorded as H.264 files to a solid state drive (SSD) and another back-up SSD, because the recorded files are lighter and more accessible for use in the cloud. Recording directly from AJA Ki Pro GO gives us redundant, multi-channel recordings. Post-recording, our team will upload the files to the cloud, so that our client's editor can download the footage quickly, regardless of where they are based or if they have a limited internet connection. Ki Pro GO has really helped us create a more simple, stable workflow. We began using Ki Pro GO almost immediately after we founded VStream Media, and it has quickly become essential with the rise of remote workflows during the pandemic.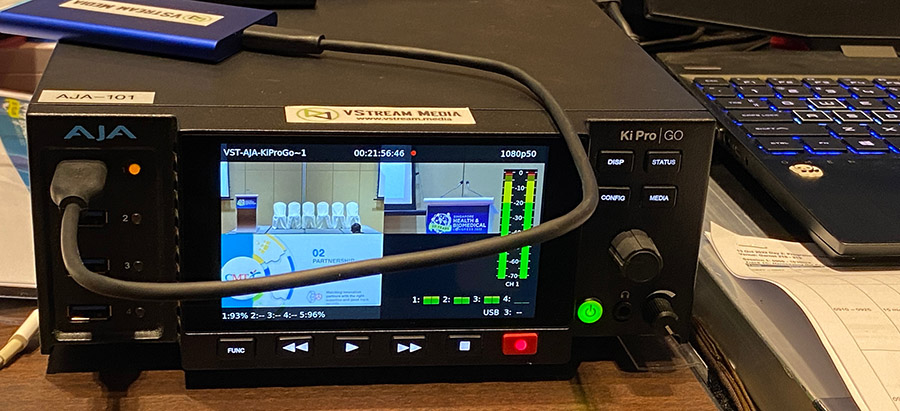 How has the pandemic impacted your work?
The industry has been catapulted into digitalization and an exploration of the possibilities of remote production and collaboration; however, we'd already been implementing these workflows pre-pandemic. In the past two years, we've seen a surge in demand for our services, primarily in the execution of online events and remote collaboration for video productions. We have clients and AV partners coming in daily to discuss and seek advice on how their ideas and productions can be executed remotely via the cloud and the solutions we can provide to realize them. It has forced us to constantly think on our feet, so that we can come up with creative solutions that align with our customers' visions. Our AJA gear has made this a lot easier. Their technology is a constant workhorse that delivers incredible value. When it comes to live production, it only happens once, so we need to be confident that all equipment can perform well, which is why we continue to rely on AJA gear.
 
About AJA Ki Pro GO
Ki Pro GO Is a portable multi-channel H.264 recorder offering up to 4-channels of simultaneous HD and SD recording to off the shelf USB drives and/or network storage with redundant recording capabilities. 4x 3G-SDI and 4x HDMI digital video inputs with flexible channel assignments provide connections to the latest video sources, including cameras and DSLRs. Incoming video sources do not have to be genlocked due to Ki Pro GO's input frame syncs. Ki Pro GO also features AJA's high quality de-interlacers on each input so progressive recordings can be made from interlaced inputs. High quality 2-channel embedded audio or balanced XLR analog audio can be assigned to any recording channel. Multi-Channel Matrix Monitoring enables multiple video channels to be viewed on any single HDMI or SDI display, and Enhanced Super Out offers timecode, media status and audio meter overlays over the SDI and HDMI monitor outputs. Designed to be either portable or rackmountable with a half rack wide, 2RU dimensions, Ki Pro GO is well suited for use in any environment. www.aja.com/ki-pro-go 
About AJA Video Systems, Inc.
Since 1993, AJA Video has been a leading manufacturer of video interface technologies, converters, digital video recording solutions and professional cameras, bringing high-quality, cost-effective products to the professional, broadcast, and post-production markets. AJA products are designed and manufactured at our facilities in Grass Valley, California, and sold through an extensive sales channel of resellers and systems integrators around the world. For further information, please see our website at www.aja.com.