Focal Point Productions Unlocks the Live Production Benefits of Fiber with AJA FiDO 
January 23, 2023
Managing multiple 300-foot SDI cables can quickly become a nightmare in any live event production setting, which is why Baltimore-based event production outfit Focal Point Productions leverages fiber for complex projects involving multiple cameras, TVs, and projectors. Company Owner and President Marty Jenoff has navigated significant industry shifts over the last two decades, upgrading his workflow to accommodate evolving client demands. We recently caught up with him to discuss how his company has grown, the new fiber kit he's using, and what's on the horizon.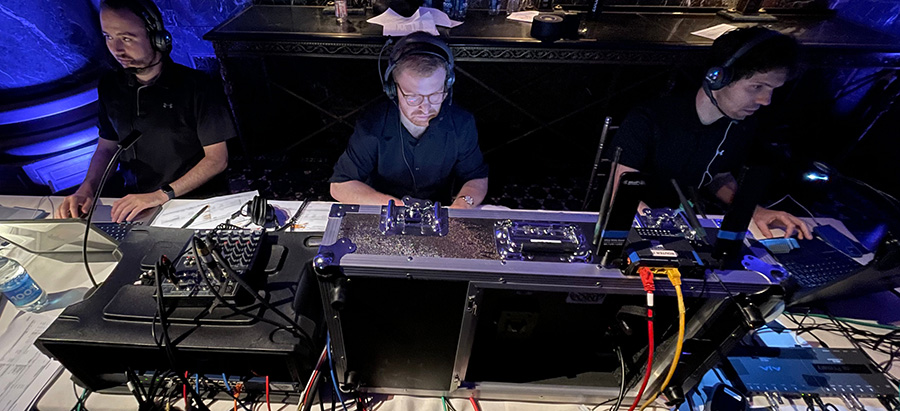 Tell us about your role at Focal Point Productions. 
As the owner/operator, I wear all hats, including director, producer, and technician. Our primary focus was traditional videos, mostly corporate marketing, promotional, training, and event recap videos. We also handled some live streaming, but the scales tipped to about 90 percent live streaming with the pandemic. Now, it's transitioned back into more in-person events, but many still require a live stream component. Embracing these shifts and adopting the right technology to accommodate them has allowed us to grow nearly 200 percent in the last three years.
What does a typical day on the job entail? 
Just as the types and sizes of events we handle span the gamut, so does my day. I'm out in the field a lot, conducting site surveys and client meetings and managing the setup and production needs for client events, whether virtual, in-person, or hybrid. We also provide editing on the backend for traditional shoots, so I could be helping the team with an edit. 
How do you determine what gear to use for an event? 
No event workflow we develop looks the same, but most fall within four categories. We start with an in-depth conversation with the client to understand the run of show and the scope of the event space. Once we've determined the client's budget, goals, and tech requirements, we identify the best approach and map out the camera, monitor, and switcher positioning on paper. We then do a site survey for due diligence, take measurements to verify our ideas and guesstimates, and look at lighting and graphics to ensure we can tie everything together in the most seamless way possible. 
Which aspects of production are your favorite? 
I like working on challenging projects; they're the most memorable. I also like the ones that let me bring out all my kit – cameras, lighting, audio, etc. – and put the gear to good use. A plain room isn't that interesting on camera, so I enjoy working on projects with dynamic visual elements like creative lighting, good design, and multimedia, whether pre-recorded videos or arranging virtual presenters. In these scenarios, we can use many cameras and capture interesting shots.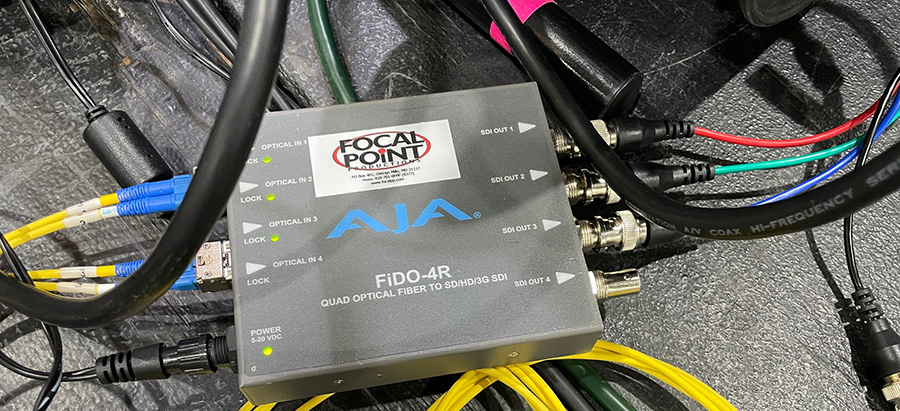 AJA FiDO Mini-Converters are essential for nearly all our complex projects; we have an assortment of 12 AJA Mini-Converters spanning FiDO-4R, FiDO-4T, FiDO-2T, FiDO-2R, FiDO-TR, FiDO-R-ST, FiDO-T-ST, and Hi5-Fiber. With SDI cable, which is what we typically run between cameras, TVs, and projectors, we're limited to 300 feet and can only run one signal per cable, and there's nothing worse than having to run a bunch of 300-foot cables. It caps your range and makes setup and breakdown more time-consuming for long cable runs. With AJA converters, we can run multiple signals much longer distances simultaneously, thousands of feet, without issue. Beyond streamlining set up and tear down, it gives us more options for equipment location, which is especially crucial in large venues. FiDO Mini-Converters make our job a lot easier; they're rock solid and trustworthy, which is important because we usually only have a couple of hours to set up on location. 
Describe the most challenging aspects of the job. 
While we've been live streaming since 2011, it's a new experience for many of our clients so we've worked to help educate them on the practice. For a while, virtual events were the only option, so companies adopted the practice, but it's still a relatively new line item for marketing and production budgets. Clients often underestimate the complexity involved in implementing quality live streaming, but once we walk them through how it happens and what's needed to meet their expectations for the event, it tends to click. The sudden demand of live streaming required us to make some adjustments. We aim to keep up with all the new developments and updates in live streaming, but finding the time to do software updates and test out new workflows can be challenging when there's so little down time between projects.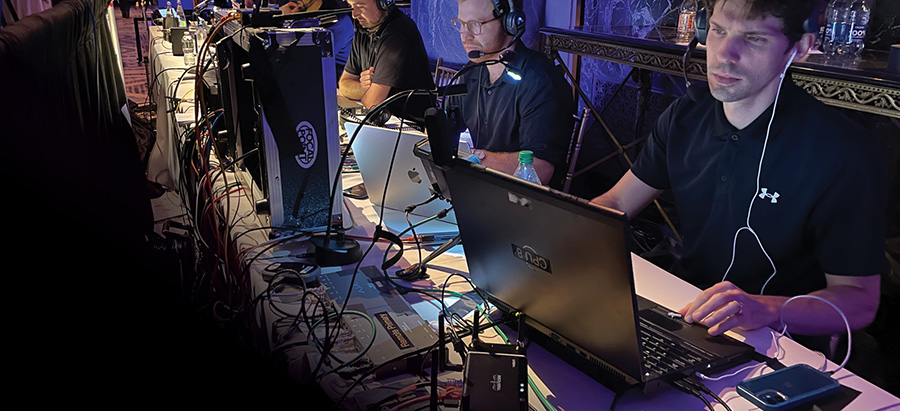 What do you look for when investing in new gear? 
We're a small business with a heavy project load, so I look for versatile solutions. Lighting, camera, switcher, conversion, and I/O gear are a priority. I'm also interested in NDI and SRT and have experimented with both, but still prefer hard-wired fiber or SDI connections, so I want gear that has an SDI or HDMI connection. I also like my tech to have a lot of inputs and outputs and tactile buttons and knobs. 
Do you have any event productions on the horizon? 
We're ramping up for the BBYO international convention. It's held annually in a different city, and the event attracts over 3,000 Jewish teens and 1,000+ additional speakers, volunteers, and philanthropists. We've managed their production needs for the past five years, and look forward to working on the next convention – set for February in Dallas, Texas. I expect our AJA fiber Mini-Converters will undoubtedly be put to good use across the production. 
About AJA FiDO Mini-Converters
FiDO Mini-Converters offer unmatched flexibility and cost efficiency for 12G-SDI, 6G-SDI, and 3G-SDI fiber conversion, allowing for long cable runs up to 10km for single mode FiDOs and up to 700m (2296 ft) for OM4 and 300m (984 ft) for OM3 multi-mode fiber optic cables when using models with optional multi-mode SFPs. FiDO converters use a compact, low-profile enclosure that works well in tight spaces around and behind equipment racks, trucks and on camera. www.aja.com/optical-fiber-converters
About AJA Hi5-Fiber
Hi5-Fiber converts 3G-SDI over single mode 1310 nm Fiber optic cable (ST-style Fiber connector) to HDMI for driving HDMI monitors. Embedded 8-channel 3G-SDI audio is supported in the HDMI output allowing a convenient single cable audio/video connection. Hi5-Fiber provides 2-Channel RCA style audio outputs for separate audio monitoring if needed. www.aja.com/hi5-fiber
About AJA Video Systems                                                                                                               
Since 1993, AJA Video Systems has been a leading manufacturer of video interface technologies, converters, digital video recording solutions and professional cameras, bringing high quality, cost effective products to the professional broadcast, video and post production markets. AJA products are designed and manufactured at our facilities in Grass Valley, California, and sold through an extensive sales channel of resellers and systems integrators around the world. For further information, please see our website at www.aja.com.
All trademarks and copyrights are property of their respective owners.