Nouvelle Vague Simulcasts Live Events via SRT and RTMP with AJA BRIDGE LIVE
October 7, 2021
As multi-platform streaming has become the standard for live entertainment, live production professionals are leaning on simulcast workflows to deliver content to increasingly fragmented audiences. While vital for maximizing audience reach, successfully implementing simulcast workflows can prove challenging, given that teams must juggle the various video format and quality requirements of each delivery platform.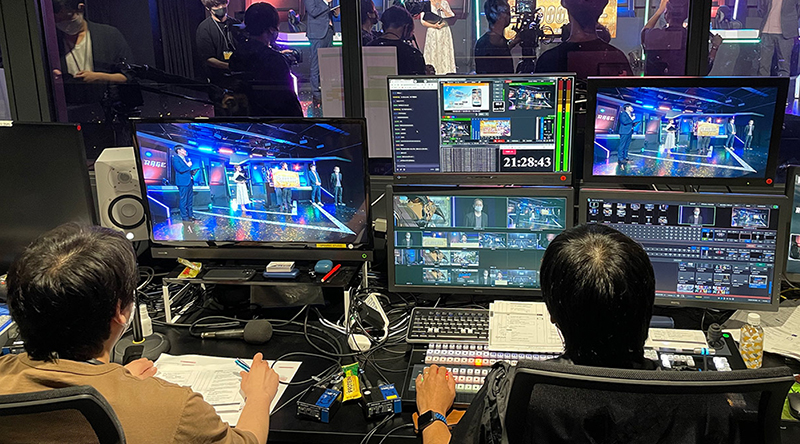 To reduce these complexities and adapt to shifting client demands, Tokyo-based live production technology provider Nouvelle Vague Inc. has refined its simulcast workflow in the last year, with an eye on emerging technology and standards. The company introduced two AJA BRIDGE LIVE devices into its pipeline earlier this year, which support multi-channel live video contribution, backhauling, live streaming and video delivery, to answer client demand for SRT transmission and remote production has increased.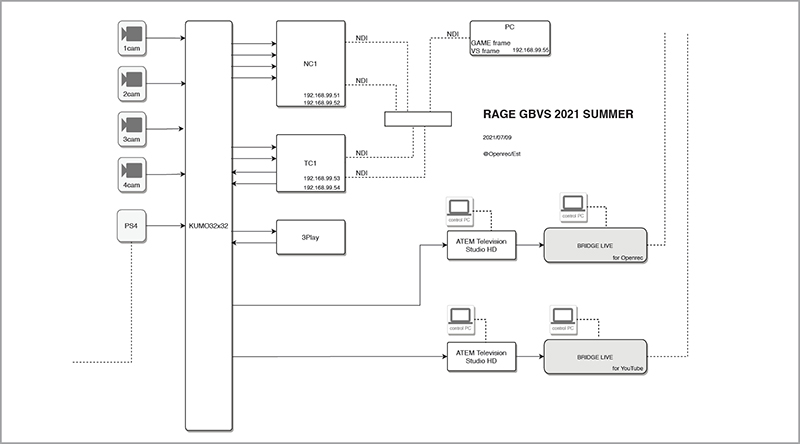 Familiar with AJA gear after integrating two AJA HELO streaming and recording devices into workflows in early 2020 for greater stability and functionality, Nouvelle Vague opted for AJA BRIDGE LIVE to extend its workflow to support Secure Reliable Transport (SRT) and RTMP transmission in separate pipelines. 
"SRT has become increasingly popular among clients, especially those looking for an added layer of security for their intellectual property," noted Masayoshi Ikeda, VP and Representative Director, Nouvelle Vague. "At the same time, our customers also require their content to be delivered with stability on multiple platforms at high quality. AJA BRIDGE LIVE allows us to achieve this in a user-friendly way."
Most Nouvelle Vague e-sports projects, which encompass on-the-ground support, require streams that feature complicated screen configurations with upwards of 60 layers. One of the production company's most ambitious undertakings this year was for the "RAGE" esports competition, the largest in Japan. BRIDGE LIVE proved essential on this project for simulcasting tournament coverage to YouTube, OPENREC.tv, and Twitter. On-site, four camera feeds and PlayStation 4 game sources were fed into AJA KUMO 3232 12G-SDI routers, allowing for simplified cabling, then into NewTek TriCaster video production systems. The Nouvelle Vague team distributed the output to two HD production switchers and into the BRIDGE LIVE devices for RTMP encoding, and the reception and decoding of SRT feeds. The stream was then sent to Japanese video streaming site ABEMA in 59.94i, as well as the other platforms in progressive. 
To enable NAS recording and MP4 ingest on upcoming projects, Nouvelle Vague also recently added an AJA Ki Pro GO to its equipment arsenal. The addition of the multi-channel H.264 recorder ensures a comprehensive portable fly pack that will allow the team to support clients on site from ingest to editing, distribution, and recording. Nouvelle recently supported the "FUJI ROCK FESTIVAL '21" using the workflow and plans to also harness it to support a range of remote livestreaming projects from their studio in Shibuya when it opens.
Concluded Ikeda, "As the pandemic continues to make it difficult for people to gather together physically, remote production remains vital for maintaining operations and AJA solutions are an important part of being able to do so successfully in a streamlined manner."
About BRIDGE LIVE
Developed in cooperation with streaming software experts Comprimato, BRIDGE LIVE is a turnkey solution built for critical streaming and contribution applications with high performance 12G-SDI video encoding/decoding, stream-based transcoding, with flexible 12G-SDI I/O, comprehensive metadata and closed caption support, all within a compact 1RU form factor with redundant power supplies. www.aja.com/products/bridge-live.
About KUMO 3232-12G
KUMO 3232-12G offers increased capacity for larger configurations while maintaining a compact 2RU profile with support for 12G-SDI/6G-SDI/3G-SDI/1.5G-SDI with 32x 12G-SDI inputs and 32x 12G-SDI outputs. KUMO 12G-SDI routers support large format resolutions, high frame rate (HFR) and deep color formats, while reducing cable runs when transporting 4K/UltraHD over SDI. Ganged ports offer the ability to route up to 8K signals. The routers offer network-based and/or physical control, with a USB port for initially configuring IP addresses via AJA's eMini-Setup software. www.aja.com/products/kumo-3232-12g
About AJA Video Systems, Inc.
Since 1993, AJA Video has been a leading manufacturer of video interface technologies, converters, digital video recording solutions and professional cameras, bringing high-quality, cost-effective products to the professional, broadcast and post-production markets. AJA products are designed and manufactured at our facilities in Grass Valley, California, and sold through an extensive sales channel of resellers and systems integrators around the world. For further information, please see our website at www.aja.com.
Products Used
BRIDGE LIVE