Vendata Solutions Builds Tapeless Workflows for Television and Internet Broadcasts with AJA Ki Pro
August 6, 2012
"Management and setup of Ki Pro is extremely intuitive, making it a great device for media acquisition. I can very quickly deploy multiple Ki Pros in a remote truck environment, and have the operators up to speed in no time" said Heames.
Vendata Solutions has acquired a large pool of AJA Ki Pros that are in constant rotation in the field. On a typical 10-camera project, instead of renting an HDCAM deck, with daily rental fees anywhere from $500 and up, clients use Ki Pros to shave significant costs off of a production.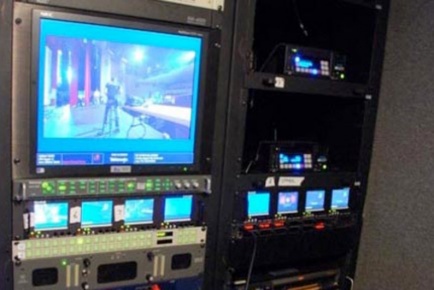 Recent shows where this came into play included a series with Mexican Wrestling outfit "Lucha Libre" for MTV 3 where Ki Pros were recording ISOs and two line cuts for seven Sony 1500 cameras; on a project for Ford, Ki Pro was used as the playout device for footage captured in cars and broadcast directly onto the web. On a shoot with 80's rockers Duran Duran, directed by famed film director David Lynch, Vendata Solutions used Ki Pros for backup line records for a direct-to-web feed and to provide monitoring footage to the production team.
AJA Ki Pro has also come in handy on location for quick segment recording and editing. For the 2011 Grammy Awards, Vendata Solutions had Ki Pros backstage to record two line cuts during band performances. The media could be accessed directly off of the Ki Pros to do fast dissolves and also easily exported as QuickTime files to provide to band managers and members who wanted copies immediately following their performances.
"The Ki Pro is such a useful device to have on set. We've found that we've relied on Ki Pro to provide workflow shortcuts for everything from taking the place of an HDCAM deck and recording camera ISO feeds to doing backup line records. It's becoming an essential part of a lot of live productions, concluded Heames.
About AJA Ki Pro
AJA Ki Pro is a portable, rugged tapeless video recording device that records high-quality Apple ProRes 422 QuickTime files onto computer-friendly media. Because it features SD/HD-SDI, HDMI, and analog inputs, users can interface with virtually any type of camera. Ki Pro's numerous simultaneous outputs enable flexible monitoring, connecting to both professional and consumer monitors. Intuitive to operate, Ki Pro's familiar VTR-like buttons provide immediate controls for basic operation. From a distance, users can control operations with a laptop or iPhone web browser via Ethernet or wireless connection. Ki Pro records to removable storage modules including a 250GB hard disk drive (standard), optional 500GB drive, or optional 128GB or 256GB SSD storage modules. When removed, the storage module functions as a standard bus-powered FireWire 800 drive, enabling instant media playback and editing.
About AJA Video Systems, Inc.
Since 1993, AJA Video has been a leading manufacturer of high-quality and cost-effective digital video interface, conversion, acquisition and desktop solutions supporting the professional broadcast and post- production markets. With headquarters in Grass Valley, California, AJA maintains an extensive sales channel of dealers and systems integrators around the world. For further information visit AJA Video Systems Website.
Products Used
Ki Pro